Sunday, April 24, 2022
4:50 PM
Austin, TX
Community Awareness Event
4204 Manchaca Road
Austin, TX
website: www.radiocoffeeandbeer.com/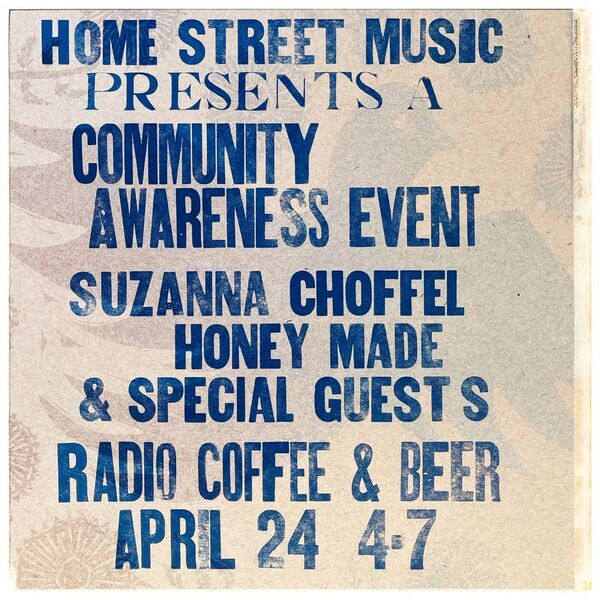 Chris Chandler will be performing with Karen Mal And Anne Sauder
Hello friends! We are thrilled to be hosting another Community Awareness Event! It has been way too long, and we have so much to share with you. Please join us at Radio Coffee & Beer from 4:00- 7:00 for a Sunday afternoon of great music, informative speakers, incredible raffle prizes, and the opportunity to meet and hear some of the talented participants from our song circles!! We will have speakers from different local organizations who are doing interesting work in Austin, and they will inform everyone of ways to get involved in the community. Please come make connections, dance, sing, win some raffle prizes, and learn about Home Street Music.
Musical Guests Include:
and members of the HSM community.
The very gracious donors of our raffle items include: Ft. Lonesome, Good Day Maker, Claire Sommers Buck Jewelry, The Austin Motel, Titos, Tsoros, Amy Rosalyn, Watreloo Ice House, Zilker Brewing Co., Wonderspaces, Paramount Theater, Sabina Rosenfeld, Utopiafest, Uchi, Folk Potions, Strait Music, Cute Nail Salon, Esther's Follies, and Casa de Luz! Please let us know if you would like to contribute something to our raffle!
If you happen to have any small percussion instruments, or any instruments that you would like to donate to Home Street Music, please bring them with you to the event, or contact us to arrange a pickup. Or if you cannot make it to the event and you would like to make a financial contribution to HSM, you can do that here:
We can't wait to celebrate with you!
See less
export this event to my calendar