Tuesday, August 14, 2012
8:30 pm
Portland, or
Chris & Paul play with Kazum in a Variety Show Exravaganza! THE FLYING POETRY CIRCUS AND MODERN MULTIMEDIA MEDICINE SHOW
3000 NE Alberta Street Portland, or 97211
Price: $10.00
Purchase tickets online click here to purchase tickets
website: www.albertarosetheatre.com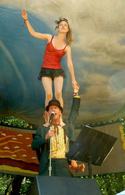 This will be an incredible show!

The Flying Poetry Circus and Modern Multimedia Medicine Show

High Flying-Storytelling-Acro-balancing-Blues-Americana-Short Films-Juggling-Hula Hooping-Burlesque-Poetry-Politics-Conscious-Contortionists-So-Politically-Correct-it-feels-comfortable-being-wholly-and-utterly-incorrect. YES!

My friends Kazum! and I have wanted to do a show together for sometime – and finally the date is upon us! It will be me and Paul doing our irreverent iconoclastic multimedia show – with the terrific highflying acro-balancing troupe Kazum! We will also have several special guest culminating in an old school tent revival vaudeville hoe-down!

This is going to be a very special show:

As you know, The Alberta Rose is a pretty big room and I could use all the help I can get in getting the word out. I would truly appreciate your help in letting others know about it and get yer butts down and see this one!

Even if you can't make it (I am sure there are valid reasons not to be able to make it) please help me in letting some on you know and love to come in your stead.

export this event to my calendar