Bio
The Chris Chandler and Paul Benoit Show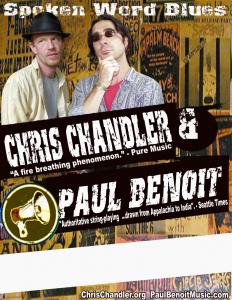 Poet and storyteller Chris Chandler has joined forces with world-class roots and Americana guitar guru Paul Benoit.
As ancient as the at form is - songwriting and storytelling - one would think the genre would be ubiqutous. But somehow, Benoit and Chandler stand alone.
Together their styles merge like lanes on an outbound interstate. Delivering vignettes about politics and modern culture with the fire of a Baptist Preacher, the music is rooted in the Americana, and colored with blues.
Together they have released 4 Albums, The Latest: "Don't Go Back to Sleep"