Bio
Paul Benoit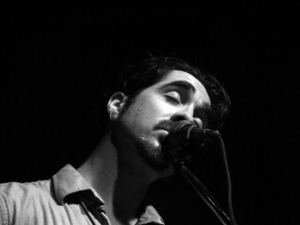 P A U L B E N O I T
WWW.PAULBENOITMUSIC.COM
S I N G E R • S O N G W R I T E R • G U I T A R I S T
paulibenoit@hotmail.com • 206.721.0514 • 5310 32nd Ave South, Seattle WA 98118
For the past twenty years, Paul Benoit has performed and recorded his own music and collaborated with numerous songwriters. From 1996-98 Paul's electric/acoustic roots rock band, Crosseyed, released two albums and toured successfully throughout the western U.S.
In 1997, Paul co-founded Hanuman, a four piece all-acoustic instrumental ensemble blending jazz, bluegrass, funk, country and rock and roll with African beats. Hanuman released five albums, sold over 8,000 recordings and toured the U.S., playing at clubs, festivals, and theaters, up to 200 dates a year. In 2001, the band received Best Touring Band and Best Album awards from Sounds of Seattle and was voted best new band by the Seattle Weekly.
Paul's songwriting and sound continues to evolve with his solo work and he has released five solo recordings of roots-rock, pop, folk, blues and the lush and complex arrangements of his 2nd CD, Combustible, named a top 12 DIY CD in Performing Songwriter Magazine. He composed the soundtrack for 2 films, including "Diggers", winner of the IFP/Seattle Spotlight award which premiered at the 2007 Seattle International Film Festival.
He has just released his 5th CD, Bluebird, recorded at a small beach village in El Salvador, and continues to perform throughout the United States, Canada, Mexico and Central America solo, with his band and with performer /poet Chris Chandler.
PRESS
•La Cuadra, Magazine and Guide to the Other Side, 2008 Antigua, Guatemala
"Fronted by blues slide guitar virtuoso and vocalist Paul Benoit…Damn they've got it. Paul's got a little Hound Taylor and Duane in him."
•Calendar Recommends, Sound Magazine, May 2007
Tost Lounge; Seattle,WA
"The man deserves a packed house."
•Top DIY Picks, Performing Songwriter Jan/Feb 2006 Combustible CD Review
"Lyrics are rich with imagery. Rhymes are fresh, lead lines are mellow and the whole package is solidly grooving and easy on the ears."
•The Music Blog, September 27th, 2005 Paul Benoit is "Combustible"
"He communicates a musical vision with a soulfulness that owes as much to Motown as Fred McDowell. "
•Kotori Magazine, Issue 6 kotorimag.com, 270 degree reviews
"Listen. Relax. Repeat…. an album like this allows one (yes, ME) to tend to your bleeding ears and your broken heart at the same time with whimsical melodies deliberating life's eternal reflection."
•Paul de Barros, Jazz Critic Seattle Times
"The authoritative string-playing of the bluesy Benoit and the bluegrassy Law keep musical interest high, whether they are playing tunes drawn from Appalachia or India."
•The Stranger
"But all that matters is that Hanuman's blend of jazz, bluegrass, country and rock'n' roll with African beats sounds damn good."