The Muse and Whirled Retort 2021
The Muse and Whirled Retort July 2021
Friday, July 2, 2021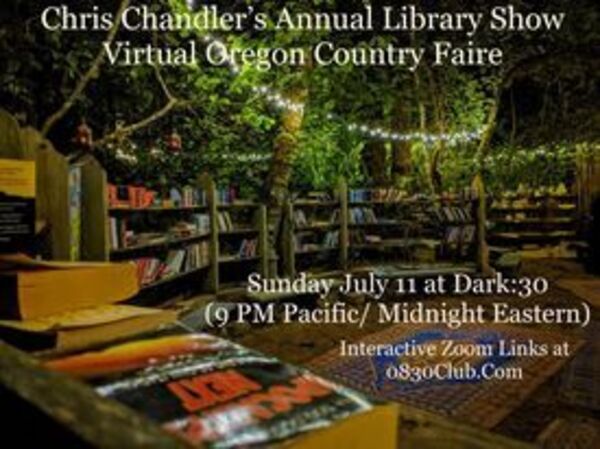 July 01, 021
Asbury Park, NJ


Hey Everybody,
It's that time again! As soon as the country starts opening up again... low and behold, I get struck down with a severe case of Sciatica. It is starting to get better - so thank you for all the well wishes. I just felt I had to point out the ironic reality of it all.

It seems this will be summer number two with no touring for chandler. But not to worry, Paul Benoit and I are planning on an October tour from the newly rescheduled Kerrville Folk Festival winding our way up the east coast back here to NJ.

If you are between here and there and would like to see us come through your town please drop me a line. I could not do it without you!

******
in the DO NOT MISS category:

on Sunday Sunday Sunday July 11 I will be performing my annual Library Show. I have done this as the the closing hours of the Faire for over 25 years. For those of you who have been you know what a magical evening it is! I am going to do my best to recreate that magic by bringing in some of the folks that have helped to weave it in the past. Cellist Christine Gunn will set the stage with her ambient alchemy. come early and check out the galleries featuring a slide show of pictures from Oregon Country Faires past by Paul Trebech. Many of my past music partners will be joining me including Amanda Stark (of Stark Raving Chandler,) Samantha Parton (from our group Avoiding Godot and her own The Be Good Tanyas) and Frankie Hernandez (the ring leader of the Convenience Store Troubadours)

The show is "pay what you can including zero" but to be interactive via zoom ya gotta go here:

I WANT TO GO TO CHANDLER"S LIBRARY SHOW!

or paste: https://0830club.com/event/monthly-muse-3/

when it asks how much you would like to contribute and ya don't have it just type zero.

I know, I know now that the country is opening back up no one wants to attend a "zoom" concert - well that is because - you haven;t been to this kind. It is interactive and we will have an "after party" where wee can hang and swap stories!
if you would like to support me or this news letter you can:
1.) go to the coffee can on my web site: https://www.chrischandler.org
2.) go to https://www.paypal.com/paypalme/baldchandler
3.) be a continuing supporter: https://www.patreon.com/TheChrisCahndlerShow
Paul Benoit and I are working on a new album (working title:) Meek Rising.

We hope to be done by the fall. the last album "Working on a Building" is on a long time hold.

ENOUGH ENOUGH ENOUGH Already with the crass comercial anouncements it is time! for your M.U.S.E. .A.N.D. .W.H.I.R.L.E.D. .R.E.T.O.R.T.
THE MUSE AND WHIRLED RETORT
July 1, 2021
Asbury Park NJ




In Late July
By Chris Chandler


Today I built my first sandcastle,

at the top of the tide line.
It is magnificent,

Small ships passing us by as we place
small clam shells atop each turret, and 
draping them in seaweed.


Long transparent gelatinous sea bulbs
crown the highest spires,

and form spirals winding down her spires
into her inner courtyard like a memory...


Her sandy keep sits high,
looking down upon the drawbridge
surrounded by an empty moat.

As the tide comes in,

tiny waves
flow into her channels,

begins to circle her with water.


A small child, compelled by this beauty,

runs out to ocean's edge,

bringing back buckets of water,

to pour into the carved canals,

drawing the seawater in,

priming the pump like a siphon.

Her name is June,

it is late July.


Soon the moat is full.
And the castle is standing proud in the setting sun.

Feathered flags unfurled.

I sit back in my plastic beach chair throne,

crack a champagne of beers,

and overlook my kingdom.

Yet the tide cares not for my reign.


My kingdom is under siege.

The rampart begins to crumble.

The drawbridge floats away,

and resumes its former life as a piece of driftwood.


Walls fade away...
patiently moulded with Tupperware pots

and a small child's spade begin to collapse.


Reclaimed.


The persistent tide now pushes against the walls of the keep.

While a soft stew of salty seaweeds,

fringes the advancing front,

We cry at its impermanence ...
But we don't know....

Yet still...
one by one,

her grand pillars are lost
planted with flags of feathers,

They timber back into the weedy brine.


Reclaimed!


Then, at last,
the final tower tips.

Yet, still one last proud feather
stands erect...

...clinging defiant

 ...against the sea,


until it too is engulfed and floats away...


Reclaimed...


Yesterday is gone.

Tomorrow we will never see.

Leaving us only today...

and the sea...
...and the sand...
...and the tide...

and her eternal devotion to the pull of the moon...

...and the look of wonder...
...in a small child's eyes,
named June,
in late July.