Fifty from Twenty a 20th Anniversary Box Set
Tuesday, April 1, 2008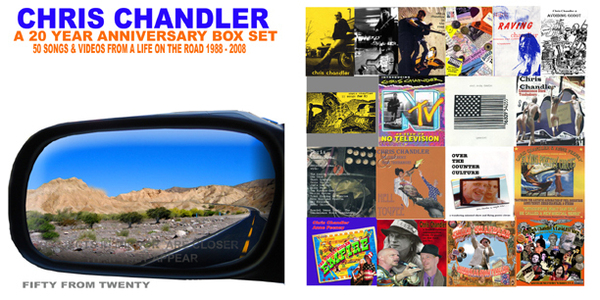 FIFTY FROM TWENTY!
May will be my 20th anniversary of being on the road. Wow! 20 years.
13 CDs
10 tapes
10 music videos
and a half dozen books.
Sounds like a lot? HA – how about 8 or so years of doing this news letter once a month too!
To commemorate the event I am releasing this summer a 20th Anniversary box set! called Fifty from Twenty.
50 songs on 4 CDs and a DVD with the best of my finished videos.
I am doing this myself – as always on a shoe string. I am planning on charging 50 bucks for this handsome interactive collection filled with photos from Kerrville, The Oregon Country Fair, School of the Americas Watch, and many more of my regular haunts as well as many Bonuses and Lyrics.
I anticipate getting this back from the manufacturer (me!) by June 1. If you would like to be the first on your block to display such a prestigious memento drop me a line and we will get you hooked up.
Buy an advance copy by emailing me
baldchandler@yahoo.com – we can do it on line or I will give you a snail mail if you prefer
IF YOU WOULD LIKE TO GET YOUR NAME IN THE LINER NOTES AS AN EXECUTIVE PRODUCER
I can not tell you how much a simple $100 donation would help me out.
Do that by the end of April and I will get you in the liner notes!
You could mail a check to
2138 Memory Lane
Silver SPring, MD 20904
or click right here:
link
Whats on it?
Check this out!
CD1
1. The Grasshopper ~ Hell Toupee ~ with Laura Freeman, Frankie Hernandez and Chad Austinson (The Convenience Store Troubadours)
2. Credit History 2 ~ Flying Poetry Circus ~ with Anne Feeney
3. Rush ~ Generica ~with Amanda Stark and Dan Bern
4. Something's in the Air ~ American Storyteller Vol II ~ with Emma's Revolution, Disappear Fear
5. Fast Food Confederacy ~ As Seen On No TV ~ with Adam Gussow and Karen Casey
6. Sex Sex Sex ~ American Storyteller Vol IV ~ with Catherine Falcone and David Roe
7. Dental History ~ Hell Toupee with Laura Freeman
8. Sofas and #2 Pencils ~ Convenience Store Troubadours ~ with Samantha Parton and David Rovics
9. NOLA#2 ~ American Storyteller Vol IV ~ with David Roe
10. Never Been The Same ~ Flying Poetry Circus ~ with Anne Feeney
11. This Town/That Town ~ Collaborations W/ Mike West and Myshkin
12. This Is Not A Folk Song ~ Generica ~ with Amanda Stark and Mudcat
CD 2
13. Breakfast Serial Killers ~ Convenience Store Troubadours ~ with Oliver Steck
14. I dreamed I saw St Augustine ~ American Storyteller Vol. I ~ with Catherine Falcone
15. Last Thoughts on Elvis Presley ~ Convenience Store Troubadours ~ with 5 Chinese Brothers, Oliver Steck and Samantha Parton
16. Vinegar ~ Collaborations W/The Austin Lounge Lizards
17. Carnivals #3 ~ Live From the Wholly Stolen Empire ~ with Anne Feeney
18. Woody (AKA Chiapas)~ Generica ~ with Amanda Stark
19. Time ~ American Storyteller Vol. III ~ with David Roe
20. Bush Lite ~ Stranded Musician Needs Gas Out of Town ~ with Jon Svetkey
21. (Dumpster Diving with My Friend) Bob ~ Generica ~with Amanda Stark and Gina Forsythe
22. Let There Be Prozac ~ Flying Poetry Circus ~ with Anne Feeney
23. Hannibal/Thoughts on Fabric #2 ~ Collaborations W/Dan Bern
24. Thrift Store Diva (the Moon) ~ Convenience Store Troubadours ~ with Oliver Steck, Samantha Parton and David Rovics (Avoiding Godot)
CD 3
25. The United States of Generica ~ Flying Poetry Circus ~ with Anne Feeney and Bob Barringer
26. Failure ~ In The Road ~ with Harmonica Tom Boland
27. Infinity ~ American Storyteller Vol I with David Roe and Henry Cross
28. Watergate Generation ~ As Seen On No TV
29. Evil ~ Generica
30. Talkin Harvard Square Blues ~ In The Road
31. Who Are These People ~ Collaborations W/Trout Fishing in America
32. Blood to Wine ~ Convenience Store Troubadours ~ with Avoiding Godot and Mike West
33. Movies ~ In The Road ~ with Jim Infantino
34. Theodore/I wanna Be Like You ~ Hell Toupee ~ with Frankie Hernandez
35. Top Banana ~ Posthumously Live ~ with Magda Hiller
36. Whoop ~ Generica
CD 4
37. Cracker Jack Cure ~ American Storyteller Vol I with David Roe and Catherine Falcone
38. No One I could Talk About This With ~ Collaborations w/ Catie Curtis
39. Lightning Bugs and Barflies ~ American Storyteller Vol I with Jo Smith
40. Republican Woodstock ~ As Seen On No TV ~ with Ellis Paul, Jon Svetkey and Rachel Farro
41. Let My People Grow! ~ In The Road
42. G Chord ~ American Storyteller Vol III with David Roe
43. Embryonic Citizenship ~ As Seen On No TV ~ with Karen Casey
44. 21st Century Skid Row Man ~ Live From the Wholly Stolen Empire ~ with Anne Feeney
45. Innocence/Hangman ~ Convenience Store Troubadours~ with David Rovics
46. Letters ~ American Storyteller Vol III with David Roe and Pat Wiktor and Joe Jenks
47. My Grandmother/Never Grow Old ~ Hell Toupee with Laura Freeman
48. Afterlife ~ American Storyteller Vol II
The DVD:
The Pageant of the Paterson Silk Strike
• September 1, 1939

BONUS VIDEOS
Something's in the Air (but its not on the airwaves)
9th Ward New Orleans #2
I dreamed I saw St Augustine
This is Not A Folk Song
Evil (is boring)