Anne Feeney's Fellow Travelers' Advisory
Fellow Travelers' Advisory from Anne Feeney - FEBRUARY 2006: VOLUME ONE, #11
Thursday, February 2, 2006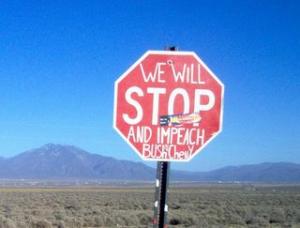 Fellow Travelers' Advisory from Anne Feeney - FEBRUARY 2006: VOLUME ONE, #11
thanks to charlie rafferty for this photo!
IMMEDIATE DESTINATIONS: Brunnsvik, Stockholm (time change!), Lund & Copenhagen
then TEXAS: Austin, Houston, Stafford, The Woodlands & then
February ends in Tucson, AZ and then...
March in Florida!
If you have friends or relatives in Austin, Houston or Tucson, *please* tell them to come see me! Thanks so much for your help and support!
--------------------------------------------------------
updated current details on gigs available at my website
if this was forwarded to you, you can subscribe and/or you can read this with live links and photos on my blog
----------------------------------------------------------
IN THIS ISSUE:
Swedish Winter
United Airlines Workers Reinstated!
Jimmy Carter in the NY Review of Books
Terrible Towels of Memory
Get Up, Stand Up!
Bolivia beats Bechtel
Family News
CD Plans
Illinois, Iowa & WI Union Women--Read This!
Smedjebacken
20 January 2006
Hi folks
This Swedish winter looks like the winters I remember from my childhood. So much snow. It's really beautiful. It can't really be true, but in my memory the Pittsburgh public works department showed up in my neighborhood at the first heavy snowfall and put roadblocks at each end of my block that often stayed there until it melted in March. Our cobblestone hill was just too much trouble for them to keep free of snow. I do know that we built many forts, went sledding, had amazing snowball battles.
But over all this pristine joy hung the constant spectre of imminent nuclear war. They told us at school that Pittsburgh was number six on Moscow's list to destroy ... right after Washington DC, New York, Los Angeles, Chicago and ... gosh, I forget... Boston? We had the crazy drills at school where we ducked under our desks. If that weren't enough to give us nightmares, we had the McCarthy hearings in full swing... and while we didn't understand what they were about, it was scary.
I imagine it must be just as scary for many small kids today ... the constant terror threat ... the mean-spriritedness and selfishness spewing from the radio and television ... widespread inequality, poverty and stress ... plus global warming & the destruction of our environment ...
I would like to be a child in Venezuela or Chile or Bolivia right now... societies filled with hope and optimism... Isn't it something that, despite all the pressure from the wealthiest nations in the world, these three countries are looking for a better option than "race-to-the-bottom" globalization? How I wish our country were filled with that joyful spirit... I remember believing that we were building a "great society." How I wish I could feel that same sense of imminence that a better world was right around the corner!
In any event, I salute Michelle Bachelet, the new President of Chile. I missed the debut of "Commander in Chief" on US television, but they've just started running it on Swedish television... Maybe I'm homesick, but watching Gena Davis take the oath of office brought a lump to my throat. I wonder if I'll live long enough to see a woman elected president. But like Molly Ivins, I'm hoping it won't be Hillary. Thanks for all that you do! Hope to see you somewhere soon. Drop me a line & let me know what you're up to.
Love & Solidarity
Anne
_____________________________________
United Airlines Workers Reinstated!
This just in... no details yet, but both of the UAL union members who were illegally fired (in the aftermath of an impromptu O'Hare airport singalong about nasty corporate criminal UAL CEO Glenn Tilton ) return to work today. Yes! You can't scare me, I'm stickin' to the union!
_____________________________________
And Garry Wills' review of Jimmy Carter's best seller is a must-read.
_____________________________________
The Steelers are headed to the Super Bowl...
if I were ever going to be a football fan, it would be from reading this fantastic article in Monthly Review by my friend Charlie McCollester:
Terrible Towels of Memory -- The Glory and the Gutting: Steeler Nation and the Humiliation of Pittsburgh
____________________________________
GET UP STAND UP
This critically acclaimed documentary about protest music includes a section where Peter Paul and Mary sing "Have You Been to Jail for Justice?" ... Some of you may have seen it when it aired coast-to-coast on PBS in September. Well, it has also aired in Germany, Austria, France, Sweden, Estonia and Australia ... and those are the broadcasts that I know of! Very exciting.
_____________________________________
BECHTEL VS. BOLIVIA: THE PEOPLE WIN!
The Cochabamba water revolt - which began exactly six years ago this month - will end this morning when Bechtel, one of the world's most powerful corporations, formally abandons its legal effort to take $50 million from the Bolivian people. Bechtel made that demand before a secretive trade court operated by the World Bank, the same institution that coerced Bolivia to privatize the water to begin with. Faced with protests, barrages of e-mails, visits to their homes, and years of damaging press, Bechtel executives finally decided to surrender, walking away with a token payment equal to thirty cents. That retreat sets a huge global precedent.
full article at the Democracy Center
____________________________________
FAMILY NEWS
The stunning young woman in the photo in this page one story is my cousin Suzanne McCahill Perrine ... Congratulations!
My sister-by-another-mother, Jan Boyd, got engaged on December 30th! Ta Da!!!
You can order a stylish organic cotton tee shirt from my son Dan's NGO .... PARCA ... and help to rebuild the areas of Guatemala demolished by hurrican Stan
You can get a hilarious 2006 calendar from my niece Kimberly Sever's Roller Derby team, the Gotham Girls ... She and my nephew Casey (aka, "Jail Bait," the team mascot) are featured in the calendar.
I'm looking forward to St Patrick's Day in St Augustine with cousins Joe and Ed McCahill and their families.
I'm going to be in Arizona with my cousins Joanne, Maureen, Eileen and Jim Metcalfe for a week before my Tucson show. It will be great to see them.
Hey, cousins ... keep that family news coming my way! Love, A
_____________________________________
CD PLANS ....
If you could only release one of these recordings, which would you do? (Long time fans recognize many of these titles from my cassettes... although the *** denotes songs I want to record soon... If you've got an extra $50 or $100 that you'd like to invest in uh CDs, send it to me at 7206 Michigan Ave, Pittsburgh, PA 15218 -- $100 gets you into the liner notes if you want...)
IF I CAN'T DANCE
Here's to You Rounders

Dr. Jazz/Sheik of Araby

Amelia Earhart

Let Their Heads Roll*

Emma *

Ya Basta!*

Dump the Bosses Off Your Back*

Too Many Daves

S-A-V-E-D

Quecreek Mine *

Monkey Business

Candle for Durruti*

Your Mind is on Vacation

or
Grafton Street
Mountains of Mourne

The Sick Note

I Married A Hero

My Brother, Sylvest

No Man's Land

Whiskey in the Jar

Spancill Hill

Arthur McBride

Nancy Whiskey

Wild Colonial Boy

Lark in the Morning

Widow's Lament

The Dutchman

Rising of the Moon

Hey Ronnie Reagan

The Men Behind the Wire

_____________________________________
Illinois, Iowa & WI Union Women--Read This!
The Regina V. Polk Women's Conference will be held May 17-20 at Pheasant Run. The focus of the conference will be collective bargaining and relevant skills and knowledge. This conference is fully funded with scholarships from the Polk Fund. Scholarship applications will be mailed soon. If you are not on their regular snail mail list, call Joe Berry at 312-996-8562 to be put on it. This is a fantastic opportunity! Be there!
____________________________________
Wow! You made it to the end of the newsletter! Thanks for reading it. See you next month. Love ... A
- posted by anne @ 5:52 AM 0 comments