The Muse and Whirled Retort 2016
Chris Chandler's M.U.S.E. .A.N.D. .W.H.I.R.L.ED. .R.E.T.O.R.T. JULY 2016
Saturday, July 2, 2016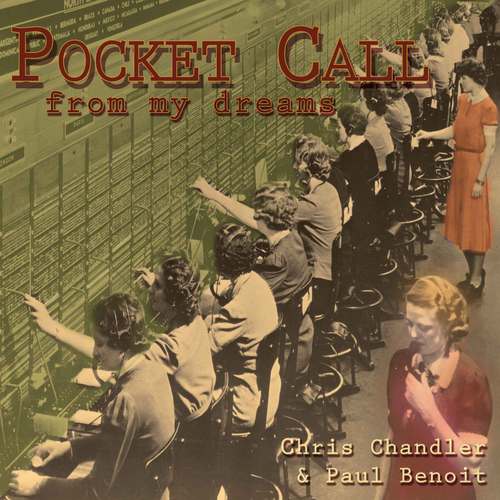 ************FLASH FLASH FLASH***********
The New CD is here, The New CD is HERE!

you can order it right now! Right here by clicking I WANT THE NEW CHANDLER AND BENOIT ALBUM
OR PASTING: http://celticartstudio.com/shop/chandler_cds/cd_pocket_call_from_my_dreams_chris_chandler_paul_benoit/

woohoo!

If you click RIGHT HERE or paste in: https://youtu.be/RufHXHOFA-A

it will take you tp a little movie collage I made for one of the songs on the album so you can sample a track right now and enjoy a quick little collage I made... very fun!
************FLASH FLASH FLASH***********
Also, due to enormous craziness over the past month my little summer tour has some opportunities for you... if you have any interest in presenting Paul Benoit and me in your living room or favorite watering hole - drop me a line!

Enough with the crass commercial announcements!

on with...

T.H.E. .M.U.S.E. .A.N.D. .W.H.I.R.L.E.D. .R.E.T.O.R.T.
July 1, 2016
Ashland OR


Hi everybody,
It's That time of the month again. Ya know after the attack on the patrons of a gay night club in Orlando, and considering this is July fourth weekend, I wanted to send out a missive about what is great about our country.

I mean, I really did feel like the attack in Orlando really was an attack on our American freedoms. To be clear, I consider the rapid growth of homosexual rights in the USA to be one of those great things... Sure, on one level: "What took us so long?" but it still makes me proud to be an American.

That is why I get so upset with these center right whakos calling to halt the immigration of Muslims. Ok sure, that deranged killer happened to be a muslim and many Muslims condemn homosexuality.

But so do Christians.

When it comes to attacks on homosexuals in this country it is hard to keep pace with the actions of Christian extremists. Many forget that the worst slaughter of homosexuals before Orlando took place in New Orleans at the Ups Stairs Bar when the gay night club was fire bombed by Christian extremists, killing 32.

They are both horrible, and all kinds of people are capable of doing all kinds of evil. But all kinds of people are also capable of doing wonderful things too.

That is why on this fourth of July I want to give a shout out to what is really great about this country.

The very thing that makes America great is the the thing we are most afraid: of our diversity.

I GOT YOUR BACK / BUT WHOSE GOT MINE?
I FELT LIKE A WRECK / OUT ON THE LINE
WE WERE TWISTED / WE WERE BLIND
I WANT MY EYES / I WANT TO UNWIND
IF YOU GOTTA HATE SOMEBODY
IF YA GOTTA HATE SOME ONE
DON'T HATE ME. ... DON'T HATE ME

From the beginning America has been a hodgepodge of sundry, and diverging groups. It is what makes us great. Two, three hundred years ago, (and even last week) It was the best, the brightest, that came here.

It was the adventures, the free thinkers, the risk takers that came here. It was the debtors, the n'er-do-wells looking to start over, the extremists, the fanatics, the radicals the persecuted, the prospectors that longed for the salvation of a new beginning.

It was the draft dodgers, the exiled intellectuals, the starving, and the industrious. The refugees.

They came from all over the world and spoke many languages. At one point we nearly adopted German as a national language.


YOU ARE ALWAYS COUNTING / KEEPING THE SCORE
I AM FALLING BEHIND / I AM OUTSIDE THE DOOR
I AM IMPERFECT / BUT IT'S NOT A CRIME
YOU'RE SHINING A LIGHT / I'M WALKING A LINE
IF YOU GOTTA HATE SOMEBODY / IF YA GOTTA HATE SOME ONE
DON'T HATE ME. ... DON'T HATE ME

In 1776, there were two and a half million non native people in what is now the United States. No nationality held a clear majority and twenty percent were of African decent. (More than from any single country in Europe)

At one point it could be argued that Swahili was the most spoken tongue in the western hemisphere. Granted, they did not come here willingly, It is one of our greatest shames that it has taken us so long to realize the gifts they had to offer. For even though Africans were subjugated for most of their history in the western hemisphere - their contributions to what makes America great is immeasurable.

And, the same is true of the contributions of those who have been the most mistreated, The Native Americans, The Chinese and The Mexicans.

Most of our great achievements have been at the behest of the newcomer ... the outcast... the refugee.

It was the new-comer, the immigrant... the refugee... that put his body on the line - against armed private militia - in the struggle to give us the eight hour day.

It was the newcomer, the immigrant... the refugee... that swelled the ranks of the Union Army and put an end to slavery by the barrel of a gun.

It was the newcomer, the immigrant... the refugee... educated in our universities that sat in Houston, TX and Cape Canaveral as we put a human on the moon.

It takes a great deal of courage and gumption to come to a new land and begin again. And when ya get here - the one thing ya still got is that courage and gumption.

Even today. It is what makes us great.

Even if it is what we fear the most.

Many fear the new comer. But I say what does the new comer have to offer?

We are all after all, newcomers.

We are still so young, and so big. Europeans poke fun at us saying we think two hundred years is a long time - yet they think two hundred miles is a long way.

Our American trailblazers have conquered great distances with a mule and an axil.


I GOT YOUR BACK We, a largely impoverished rural, uneducated...

BUT WHOSE GOT MINE? loose connection of villages...

I WAS CARELESS were able to defeat the mightiest army on earth

AND UNKIND with nothing but a wagon load of hunting rifles

WE WERE STUMBLING... and declare ourselves free.


WE WERE STONED Only a great and inspired people could do that.

I NEED IT REAL Yes, What we have done with that history has not always been pretty.

I WANT TO CALL HOME No people's history is pretty.

IF YOU GOTTA HATE SOMEBODY No people's history is pretty.

IF YA GOTTA HATE SOME ONE Perhaps if our history were pretty it would surely be that... History

IF YA GOTTA HATE SOMEBODY, Pretty people don't last
DON'T HATE ME. In America it has often been the ugliest of the ugly that prevail. And prevail we do.

IF YOU GOTTA HATE SOMEBODY But today, I choose to celebrate

IF YA GOTTA HATE SOME ONE what is great about our country.

DON'T HATE ME.

Our Diversity.


Song Lyrics by Paul Benoit.

This is one of the new tracks on the new album
Pocket Call From My Dreams...

which you can get by clicking here: I WANT THE NEW CHANDLER AND BENOIT ALBUM!
or pasting: http://celticartstudio.com/shop/chandler_cds/cd_pocket_call_from_my_dreams_chris_chandler_paul_benoit/

************H.E.R.E.'.S. .D.A. .D.A.T.E.S**************


Friday, July 8th, 2016 3:00 PM
with Paul Benoit and the World's Greatest Banned
Oregon Country Faire Shady Grove Stage
Eugene, OR
website: www.oregoncountryfair.org



Saturday, July 9th, 2016 1:40 PM
with Paul Benoit and the World's Greatest Banned
Oregon Country Faire Blue Moon Stage
Eugene, OR
website: www.oregoncountryfair.org



Sunday, July 10th, 2016 3:00 PM
with Paul Benoit and the World's Greatest Banned
Oregon Country Faire Keasey Stage
Eugene, OR
website: www.oregoncountryfair.org



Sunday, July 10th, 2016 9:00
with Paul Benoit and the World's Greatest Banned
Oregon Country Faire Library Show
Eugene, OR
website: www.oregoncountryfair.org



Friday, July 15th, 2016 8:00
with Paul Benoit, Saloon Ensemble and Ben Caplan and the Casual Smokers
Alberta Rose Theatre
Portland, OR
website: http://www.albertarosetheatre.com/?Page=https://public.ticketbiscuit.com/AlbertaRoseTheatre/Events/276465



Saturday, July 16th, 2016 9:00 PM
with Paul Benoit and friends
Sam Bond's Garage
Eugene, OR

Sunday, July 17th, 2016 8:00 PM
Florence Oregon
Mona Me Cafe
490 Highway 101
Florence, OR
https://www.facebook.com/monamiflorence/



Saturday, July 30th, 2016
Enumclaw Celtic Festival
King County Faire Grounds
Enumclaw, WA
website: http://www.sshga.org/home.htm



Sunday, July 31st, 2016
Enumclaw Celtic Festival
King County Faire Grounds
Enumclaw, WA
website: http://www.sshga.org/home.htm



Friday August5th 9:00 PM
Seattle, WA
Egan's Ballard Jam House

Saturday August 6th
House Concert Vancouver, BC, TBA

Sunday, August 7th, 2016
The Victoria Folk Music Society Presents Chris Chandler and Paul Benoit
The Norway House
Victoria, BC
website: http://www.victoriafolkmusic.ca/

Friday, August 12, 2016 7:00 PM
Richmond, CA
Kalediscope Coffee

Saturday, August 13th, 2016 7:30 PM
Chris Chandler and Paul Benoit
The Monkey House
1638 University Ave
Berkeley, CA
website: https://www.facebook.com/monkeyhousetheater/

Sunday, August 14th
Santa Cruz CA
House Concert

Monday, August 14th
San Francisco, CA
Bazzar Cafe