The Muse and Whirled Retort 2019
The Chris Chandler Story
Saturday, August 1, 2020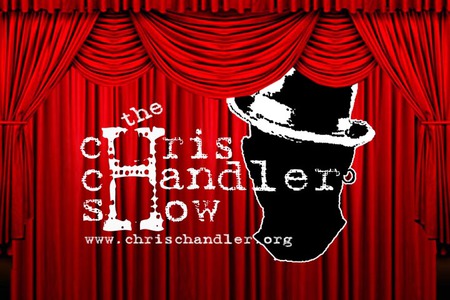 Few musicians can claim "on-the roadisms" the way Chris Chandler can. He is a true veteran of the road, traveling across The United States of Generica for many years. His anthology of road tales transforms into a flock of doves beneath the musical high-wire act.



He has worked with everyone from Allen Ginsberg to Ani DiFranco and Pete Seeger to Mojo Nixon. Utah Phillips says, "Chris Chandler is the best performance poet I have ever seen."



Originally from Stone Mountain, Georgia the son of a Baptist minister, Chris has been on or around the stage his whole life. As a teen-ager he was in the bars and on the road working as a roadie for bands like the Georgia Satellites. He graduated from the North Carolina School of the Performing Arts in 1988. That summer - which was supposed to be a "summer away from college" he hit the road as a street performer to fund his way to audition as a lighting designer in Theaters across America. He actually landed a job on Broadway no-less but turned it down to become a performer in his own right. He has been on the road ever since.



For the first few years he was living in his car and stopping in every town from Bangor to San Ysidro where he opened his guitar case and waxed the manifesto electric sporting a sign that read "Stranded Musician Needs Gas Out of Town." Eventually he hooked up with a group of performers busking in Harvard Square where he joined a commune of other traveling street musicians. These nomadic experiences naturally fed him into the world of activism. Since then he has performed at thousands of festivals, colleges, and bar rooms across the US and Canada.