The Muse and Whirled Retort 2019
The Muse and Whirled Retort August 2019
Thursday, August 1, 2019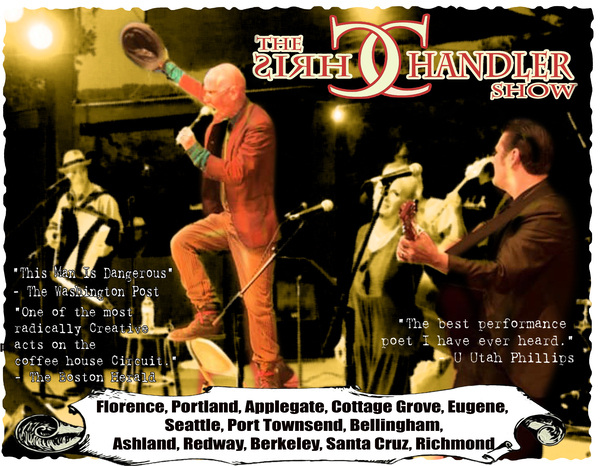 August 1, 2019
Portland, OR
Hey everybody.
The Chandler Train Keeps right on rolling.
Keep your arms and legs inside the ride and fasten your seat belt. Our cruising altitude will be about three feet off the ground and 75 miles an hour... down the thin highways of fat America and coming to a town near you...
This Train is bound for Glory.
After a terrific Summer so far with shows in Texas, California, Oregon and Washington, not to mention the 50th Anniversary of the Oregon Country Faire, A few Celtic Shows, a stint of time on the Oregon and Washington Coast... Along the Mighty Columbia...
"Roll on Columbia, Roll on!"
Holy Cow is it Beautiful there!
Cascade Locks, Cape Disappointment... Zoom.
There is more to come... The Chris Chandler SHow with Sean Shanahan...
Not really ready to share some of the latest musings
(But will at the shows) so this is one that seems appropriate from a couple of summers ago.
See you all of the sudden!
*****

Here it is... Your
M.U.S.E. .A.N.D. .W.H.I.R.L.E.D. .R.E.T.O.R.T.
Today,
I built my first sandcastle.

It is magnificent.
Her sandy keep sits high,
looking down upon the drawbridge
surrounded by an empty moat.
As the tide comes in,
tiny waves
flow into her channels,
and begin to encircle her with water.

A small child,
compelled by this beauty,
runs out to ocean's edge,
bringing back buckets of water,
to pour into the carved canals,
drawing the seawater in,
priming the pump like a siphon.

Her name is June,
it is late July.

Soon the moat is full.
And the castle is standing proud in the setting sun.
Feathered flags unfurled.

I sit back in my plastic beach chair throne,
crack a champagne of beers,
and overlook my kingdom.

Yet the tide cares not for my reign.

No,
the tide cares not for my
reign....

My kingdom is under siege.
The rampart begins to crumble beneath the oncoming waves.

The drawbridge floats away,
and resumes its former life as a piece of driftwood.

Walls...
patiently moulded with Tupperware pots
and a small child's spade begin to collapse.

Reclaimed.

The persistent tide now pushes
against the walls of the keep.
While a soft stew of salty seaweeds
fringes the advancing front.

We cry at its impermanence ...
As one by one,
her grand pillars are lost.
Planted with flags of seagull feathers,

They timber back into the weedy brine.

Reclaimed!

Then, at last,
the final tower tips.
Yet, still somehow...
one last proud feather
stands erect...
clinging defiant...
against the sea...

until it too is finally engulfed
and floats away...

Reclaimed...

Yesterday is gone.
Tomorrow we will never see.
Leaving us only today...
and the sea...
and the sand...
and the tide...
and her eternal devotion
to the pull of the moon...
and the look of wonder...
in a small child's eyes...
named June,
in late July.

N.O.W.,. .H.E.R.E.'.S. .D.A. .D.A.T.E.S.


3
Saturday
Florence, OR
7:00 PM
A Benefit for KXCR
4
Sunday
Portland, OR
Doors 8 Show 9
A Very Special House Concert
House Concert at The Home of dean mooney boudouris and abby
7
Wednesday
Applegate, OR
8 PM
opening for Kieth Greeninger
8
Thursday
Cottage Grove, OR
8 PM
The Chris Chandler Show
9
Friday
Eugene, OR
8 PM
Scott Landfield Presents
10
Saturday
Seattle, WA
9 PM
The Chris Chandler Show with Sean Shanahan
11
Sunday
Port Townsend, WA
8 pm
The Chris Chandler Show returns to Port Townsend after a long absence.
13
Tuesday
Bellingham, WA
8:00 PM
The Chris Chandler Show
15
Thursday
Ashland, OR
8:00 PM
A very special House Concert
The Home Of Claudia Stevens
16
Friday
Redway, CA
KMUD
17
Saturday
Berkeley, CA
7:00 PM
The Official Home Town Show
18
Sunday
Soquel, CA
4:00 PM
$10.00
The New Show comes to Santa Cruz
20
Tuesday
Point Richmond, CA
6:30 PM
Cassie Cushing Presents