The Muse and Whirled Retort 2021
Chris Chandler's Muse and Whirled Retort February 2021
Monday, February 1, 2021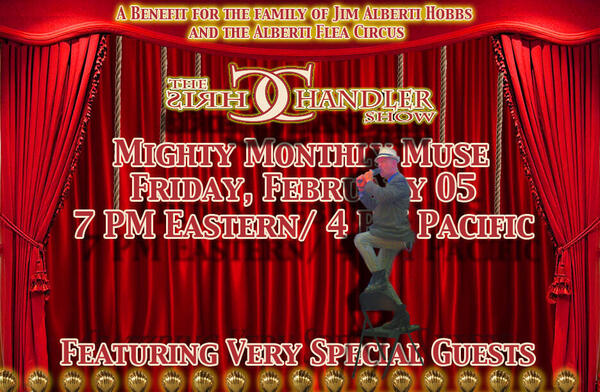 Chris Chandler's Muse and Whirled Retort February 2021
It's that time again. I try to get these out on the first of each month. I got a lot of things to get to here - already 1/12th of the way through 2021.
A few weeks ago Anne Feeney, our dear friend and my former music partner, fell while doing her laundry, and fractured a vertebrae. She was hospitalized, where she contracted COVID. She had been doing well, not showing any symptoms, but she took a turn for the worse on Friday. She has been unresponsive since then. Dan and Amy are with her now.

I ask for your love, thoughts, prayers, healing energy, witch craft, voodoo dances, and THE POWER OF SONG for her, in the hopes that she can grab death by the lapels one more time and tell it to go straight to hell.

in solidarity,
Viva La Feeney.
I continue to host my "Poem of the Week" series live from my personal FaceBook page now in 2021 at 7 PM Eastern on Fridays!

I am slowly getting them posted to my you tube channel.
I would love love love it if you would subscribe. I am very close to the number from which I could monetize my channel. Thanks!

Click here: Hell, yea I wanna subscribe to Chandler's YouTube channel!
or Paste: https://www.youtube.com/c/ChrisChandler
*****
The Mighty Monthly Muse


Much like my "Solstice Seasonal Spectacular." Each month on the first Friday I do a full set complete with special guests. This Month (in alphabetical order) Dan Bern, Sean Shanahan, Michelle Sellers and Vaudevillian Rhys Thomas.

Each month is a benefit, and this month it is to Get The Alberti Flea Circus from Winston-Salem, NC to Portland OR where it will continue its name and be used as a tool to teach Children about Vaudeville.

The Show is a sliding scale - no one turned away for lack of funds, If you have zero then pay zero.

But you do have to make a reservation and a zoom link will be sent to you.

Click Here: Oh, hell yeah, I am making a reservation!
or paste: https://0830club.com/event/chris-chandlers-mighty-monthly-muse/
ENOUGH ALREADY!!!! of the crass comercial announcements - I know what you are here for... February - the first day of black history month.

It is time for
T.H.E. .M.U.S.E. .A.N.D. .W.H.I.R.L.E.D. .R.E.T.O.R.T.
from Highland Park, NJ
02 01, 2021

He had a Hammer
by Chris Chandler

Henry Louis Aaron
February 05, 1934 - January 22, 2021
"The only man I idolize more than myself is Henry Aaron. "
Muhammad Ali said that. Yes, Sir. and It ain't braggin if it's true. Yes, sir.

It was a long winter between 1973 and 74. Professional sports had not long been in the deep south, and believe me having a professional sports team was big, even if they weren't all that good. Even if they did have trouble giving the tickets away. But we had one gleaming gemstone... Henry Aaron.

When I was a young kid the only crack of the bat you heard in a ball field in Atlanta, was the Atlanta Crackers, the all white independent franchise, named for the sound a whip makes and what's worse is they were good, The Yankees of the minors. Atlanta was proud of its team.

But another part of Atlanta liked to call itself "The City too busy to hate," which was really a slogan her largest cooperation dreamed up. Coca Cola did not want to tar her international reputation with racism, and wanted a team to boost Atlanta's image in the eyes of the world.

The deep south was still segregated and no pro league would offer a team under those circumstances. The city of Atlanta was ahead of the curve ball on that front and managed desegregate just enough to bring the Milwaukee Braves down, but the face of that franchise, was a black man. He had been voted MVP when the Braves beat the Yankees in the world series. and he was coming to the south.

Sure Jackie Robinson, desegregate Major League base ball, and I ain't taking nothing away from that, but Hank Aaron desegregated the south.

Born in the heart of the depression, but in the colon of the USA: Mobile Alabama - no electricity, no running water, and don't you dare let the sun set on your head.

He played in the Negro League as a barn stormer where he was noticed by the Boston Braves, and sent to try out for their brand new farm team - in Jacksonville, FL. During spring training, the first in the segregated south, he could not stay in the same motels, or eat in restaurants, and he wanted to object, but he knew he was paving the way for those behind him, and an objection would only detour the path to inevitability. So instead, he simply knocked it out of the park. Broke a minor league record and made the team, Wisconsin, here we come. Aaron was glad to be out of the south, where he was born.

Up in Milwaukee he became an overnight star becoming league MVP almost immediately.

But then the team decided to blaze a trail to where professional sports had never been, by taking that midnight train down to Georgia.

Major league Baseball was whistling Dixie as the Mighty M was replaced with the cursive A of the Atlanta Braves, the first professional sports team in the southern USA.

Hank Aaron - the only black player and the black face of the franchise - scheduled a meeting with Martin Luther King, Ralph Abernathy and Andrew Young to discuss how to handle what was about to happen. He was humble saying, "I am just a ball player."

They said, "You are as important to this movement as anyone of us." and they meant it. They knew... Hank Aaron had a hammer.

Those words inspired him, taught him to play better than perhaps he would have otherwise. As a young boy form Stone Mountain - he became my hero.

A large part of the racial conflict was...

Baseball mighta been the king of sports but the king of baseball was the Sultan of Swat.

Ya gotta understand here - that until Hank Aaron, there was nobody, and I mean nobody that could touch The Babe. Babe Ruth was a white people's icon that none should dare to defile. He was Baseball's "Jesus Christ Star Spangled Banner Headline Reads 'Babe Ruth is the Greatest'" However, in just just 8 short years of the deep south even having a team... they were daring to take down the great Bambino.

In 1973 Hank Aaron came just one swat of the bat away from tying the unobtainable - the all time homerun record. But the 73 season ended. The Braves as usual were in the Cellar, with only one out standing ingredient. Unfortunately it was a feature that most white people - north or south - did not want to happen. Allow a black man to become the greatest.

In the off season, Henry Aaron began getting hate mail and death threats. Not just a few - literally tens of thousands. More than Jackie Robinson, in fact - I give dollars to donuts that Henry Aaron holds the all time Major League record of death threats.

But not everyone hated Hank Aaron.

No, quite the opposite. If you follow this stuff at all, you will remember when Hank Aaron did break that record, on first swing of his first sep to the plate in his first home game of the season... two white kids jumped on the field from the stands and ran the bases along side him cheering him on...

...they could not contain them selves. How could they?

I was one of those two kids. Unable to contain my enthusiasm - leaping over the left field foul line sprinting on to the field feeling as much a part of the thrill of victory as if we had hit the ball ourselves. Running along side Hammering Hank - the greatest of all time.

Security later told us we were very lucky that we did not get shot. We were unaware of the death threats. Hank had not let on to the public.

You prolly figured out by now, I was not literally one of those kids - but I was figuratively -- happy to be a part of a world that was changing before our eyes.

A black man, on the only team in the south - passed the record that was considered to be un breakable to help tear down the walls of racism also considered unbreakable.

I hope that one-day racism will be defeated.

Our society still lives, works, plays, eats, sleeps and dies largely in segregation. Somehow, we do not see this as a loss. Perhaps this is why our society, like the Atlanta Braves of my youth, is in the cellar. But in that cellar, we do have one glimmering gemstone: The power of example.

Hank Aaron retired from baseball in 1976, but he remained the face of the Atlanta Braves for the remained of his days. But more importantly he remained one of the most outspoken advocates for civil rights, even stumping for The reverend Raphael Warnock of the Ebenezer Baptist Church for the Senate just three weeks before his death.---Which is why Henry Aaron is now indelibly chiseled on the Mt Rushmore of sports trailblazers that changed a world in need of change, along side Jessie Owens, and Joe Louis, Mahmud Ali, Jim Brown, Jackie Robinson, Colin Kaepernick and Henry Aaron.
If you would like to support me, this news letter, or these broadcasts

Click Here: Yes please, I would like to help!
or paste: www.paypal.com/paypalme/bladchandler

or, if you can spare a couple of bux per month you can be a living breathing patron of the arts
by Clicking here:
I have ALWAYS wanted to be a Patron of the Arts and Did not know it only took as little as $1 per month
or paste: www.patreon.com/TheChrisChandlerShow

all proceeds are being used to make the broadcasts better each time!
H.E.R.E.S. .D.A. .D.A.T.E.S.
February, 2021

5 Friday
7:00 PM
The Mighty Monthly Muse: Full Set
The infamous 8:30 Club---

12 Friday
7:00 PM
The Poem of the Week
Chris Chandler's personal Face Book Live Stream---

19 Friday
7:00 PM
The Poem of the Week
Chris Chandler's personal Face Book Live Stream---

26 Friday
7:00 PM
The Poem of the Week
Chris Chandler's personal Face Book Live Stream---

March, 2021

5 Friday
7:00 PM
The Mighty Monthly Muse: Full Set
The infamous 8:30 Club---

12 Friday
7:00 PM
The Poem of the Week
Chris Chandler's personal Face Book Live Stream---

19 Friday
7:00 PM
The Poem of the Week
Chris Chandler's personal Face Book Live Stream---

26 Friday
7:00 PM
The Poem of the Week
Chris Chandler's personal Face Book Live Stream---

April, 2021

2 Friday
7:00 PM
The Mighty Monthly Muse: Full Set
The infamous 8:30 Club---

9 Friday
7:00 PM
The Poem of the Week
Chris Chandler's personal Face Book Live Stream