Family
1946 UGA Bulldogs
Tuesday, January 31, 2006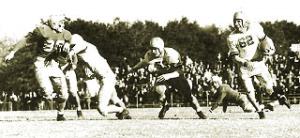 Fifty-five years ago, the Georgia Bulldogs had produced only one undefeated football season-and that was in 1896, with just a four-game schedule. Even George "Kid" Woodruff's Dream and Wonder team of 1927 had lost its final game to Georgia Tech. And as the summer of 1946 turned into fall, Georgia was still looking for its first undefeated season of the modern era.



In his seven seasons as head coach, Wally Butts had taken Georgia to its first bowl game ('42 Orange Bowl win over TCU), its only Rose Bowl appearance ('43 win over UCLA), its first SEC championship (11-1-0 in '42), and its first national championship ('42). The only laurel that had escaped Butts was an undefeated season.





Perhaps the finest all-around athlete ever to play for Georgia, Trippi (62) was denied the Heisman Trophy in '46 by an Eastern voting block that preferred Army star Glenn Davis.



In 1946, the Dogs were led by senior halfback and future pro football star Charley Trippi, who captained a team that included Herb St. John, Bulldog Williams, Johnny Rauch, Rabbit Smith, and John Donaldson.



The Bulldogs, who were 9-2 the previous year, opened the '46 season with a 35-12 victory over the Clemson Tigers, who had prepared for the game by pasting pictures of Trippi all over their locker room. Clemson held Trippi to only 27 yards rushing, but sophomore Rauch made up the difference with 147 yards and three touchdowns. Georgia rolled over Temple, 35-7, and Trippi scored two touchdowns en route to a 28-13 win over Kentucky. Oklahoma A&M fell to Georgia's powerful backfield, 33-13, and a week later the Bulldogs subjected Furman to 600 yards of total offense in a 70-7 humiliation.



Next up was Alabama, defending SEC and Rose Bowl champs, led by their star quarterback Harry Gilmer. Or was he? Gilmer didn't complete a single pass against Georgia's defense, and Trippi passed for one touchdown and rushed for another, as the Dogs shut out the Tide, 14-0. Georgia continued its unbeaten ways by defeating Florida 33-14, Auburn 41-0, and the Chattanooga Moccasins 48-27.



The Bulldogs were now 9-0, with only Georgia Tech left to play. The Yellow Jackets, who had dashed Kid Woodruff's undefeated hopes in 1927, had lost only once, so Georgia was only a slim favorite. A 66-yard touchdown run by Trippi sealed a 35-7 Georgia victory.



Unfortunately, the pollsters denied Georgia the consensus national championship, though the Dogs did finish first in the Williamson poll. But the snub didn't stop Georgia from defeating North Carolina 20-10 in the Sugar Bowl, as Trippi played all 60 minutes to cap one of the greatest seasons in Georgia football history.