Family
Jim Hinde - friend - extended family member - Consummate writer/musician Dies
Monday, February 23, 2009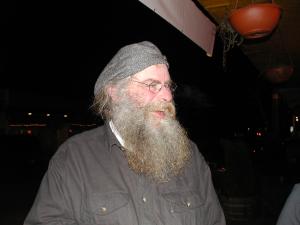 Street musician Jim Hinde helped define Pike Place Market
By Stuart Eskenazi
Seattle Times staff reporter
PREV 1 of 2 NEXT
Jim Hinde played for 18 years.
Jim Hinde played for 18 years.
Jim Hinde often performed in front of the original Starbucks at Pike Place Market. When he wasn't there, he could often be found in front of the crafts vendors inside the Market.
Enlarge this photo
JIMI LOTT / THE SEATTLE TIMES
Jim Hinde often performed in front of the original Starbucks at Pike Place Market. When he wasn't there, he could often be found in front of the crafts vendors inside the Market.
Jim Hinde's music
For lyrics to all his songs: www.jimhinde.com
To hear streams of his songs: www.cdbaby.com (type "Jim Hinde" in the search field)
With Pike Place Market as his stage, street musician Jim Hinde delighted millions of visitors, locals and workers for two decades with poignant lyrics, understated guitar and a nod, smile or wink that said: "What's not to love here?"
An institution within an institution, Mr. Hinde was the soul of a place considered the soul of the city, his folk songs a soundtrack for the Market since he began performing there full time as a busker in 1990.
The death of Mr. Hinde, 56, who suffered a heart attack in his sleep, cast a pall Tuesday over the Market, where he was regarded as a consummate professional. A former salesman, Mr. Hinde often credited the Market with saving him from the demons that haunted him as a Vietnam War veteran.
His image — gray beard, brimmed hat and guitar — was the subject of who knows how many tourist photographs.
"He's one of those big personalities that defines and fills the Market," said David Dickinson, acting Market master for the Pike Place Market Preservation & Development Authority. "He knew and touched everybody here. If you walked by him, and you were open to it, he'd get to your heart."
Mr. Hinde's wife of 29 years, Janet Hinde, discovered while bringing him coffee Monday morning that he had died in bed at their West Seattle home.
He had been looking forward to a graduation party this week for their oldest child, Katie, who just earned a doctorate in anthropology from UCLA. He similarly was proud of their son, Nate, a hip-hop spoken-word performer in Seattle.
"Being a dad was the most important thing to him," his daughter said. "His biggest fear was that he would let us down. He worked so hard to make sure that never happened."
From 9 to 10 this morning inside the main arcade, one of two spots at the Market where Mr. Hinde regularly performed, a guitar case will be set out and his songs will be played on CD.
The Market wanted to pay him that tribute for the entire day, but Janet Hinde figured her husband would not want that because it denies another busker a prime spot to perform and earn a living.
A memorial of fresh flowers already was forming inside the main arcade Tuesday.
"Jim Hinde always had a good word," said guitarist and singer Jim Page, a longtime Market busker and friend.
"He was the most disciplined street performer I have ever known. He got there early and worked his set. You'd go by and hear a guy with a good voice, great pitch, great projection, good simple guitar playing and a song that caught your ear."
Mr. Hinde's work background was in sales, although his jobs never seemed to satisfy his soul.
The family moved to Seattle from Ohio in 1988 and, after Mr. Hinde met Page at the Market, he began performing on weekends in 1989. The following year, he broke the news to Janet that he wanted to perform there full time.
For 18 years he earned enough to raise his family, together with his wife, who sells crafts at the Market.
Mr. Hinde's naval service in Vietnam left him with post-traumatic stress disorder. After returning from the war, he rode the rails for two years and sold his blood to buy food, Katie Hinde said.
Writing songs was his catharsis, his socially and politically tinged lyrics rooted in the style of folk legend John Prine.
"Performing was the vehicle for him to get out his message of caring about the world and all the people in it," Katie Hinde said.
He'd stay up late writing songs while Janet played solitaire and offered loving critiques.
Mr. Hinde routinely set up near the crafts vendors at 9 a.m. sharp, when the Market has little traffic. Claudia Kelly, who has sold her silk and velvet creations at Pike Place for more than a quarter century, said he always made the vendors feel like his special audience.
"He would give us these lovely performances," she said. "They always started my day off right. He represented the Market extremely well. I feel like he loved all of us."
Mr. Hinde, who also often performed in front of the original Starbucks, cut four CDs. His last, "Shout Down the Wind: Songs of Peace, Protest, and Patriotism," addresses his experience in Vietnam, the damage to his generation and his own devastation that lessons from Vietnam have been ignored in Iraq and Afghanistan, his daughter said.
He wrote the song "Frank, Dennis, and Me" about two friends from the Vietnam War:
"Now I see in my son, were he to march to the gun,
How his soul would wither and die.
I know how that goes, far too long it's been happening to mine.
May the damage done me by the powers that be
Never be done unto mine,
And may the criminals and foes be exposed by history and time."Mr. Hinde helped found the Pike Place Market Performers' Guild, which advocates for buskers. His reputation for fairness often cast him as an arbiter of disputes within and between the Market's various constituencies.
Mr. Hinde won a regional Emmy Award in 2001 for narrating the documentary "Pike Place Market: Soul of the City."
"He loved the Market and he took care of it because the Market took care of him," Page said.
He is survived by his wife, Janet, of Seattle; daughter Katie, of Davis, Calif.; son Nate, of Seattle; and brothers Edward Hinde, of Dayton, Ohio; and John Hinde, of Stuart, Fla.
A public memorial is scheduled for July 2, from 7 to 9 p.m. inside the Market's main arcade. Donations may be made to the Jim Hinde Memorial Fund, P.O. Box 21804, Seattle, WA 98111. The fund is to defray funeral costs, with remaining money to be given to veterans organizations.
Stuart Eskenazi: 206-464-2293 or seskenazi@seattletimes.com