Albums
Don't Go Back to Sleep
COMING MAY 2022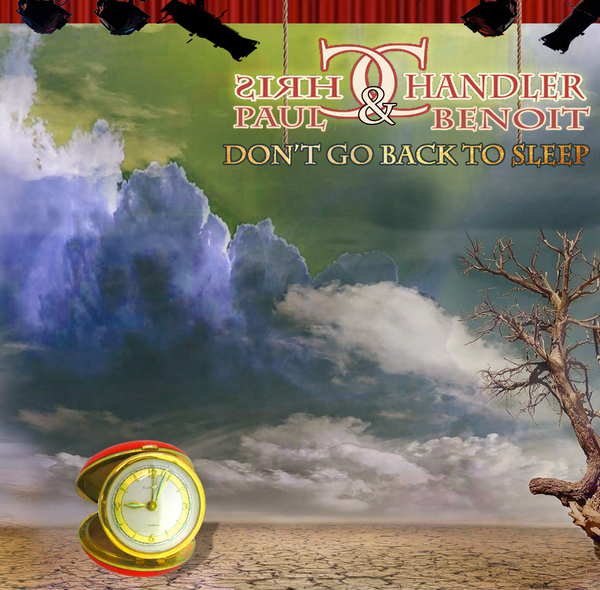 2022
This will be the fourth album from Chris Chandler and Paul Benoit. After a two year hybernation and incubation, we are thrilled to release a new crop of Chandler / Benoit collages.
Never before heard (that in itself is new) material.
If you would like to contribute to the production costs of this album you can do it here:

Click Here: I want to Help with this new Album!
1. Meek Rising / Don't Go Back to Sleep
"The illiterate quote the ignorant."

Grace Park: Vocals
Rebeca Young: bass
Ron Weinstein: Piano
Dan Weber: Drums
Jordan Feinstein: Organ

2. Hive Mind / Seven Years
"The universe is simultaneously expanding and contracting.
The hive brain is massive, all encompassing, growing.
Yet, our own brain is shrinking."

Sean Divine: Vocals, Harmonica
Paul Benoit: Bass
Dan Weber: Drums

3. Wishes and Beggars / Elevator Ring

Some come in with the tide.
Others sail forever on the same horizon,
never out of sight, their dreams heckled by Time.

Jesse Dalton: Bass
Grace Park: Vocals
Will Dowd: Drums
Jordan Feinstein: Organ

4. Reign / Little Rays of Sunshine

"A King's crown is just a hat, with a hole in it, that lets the rain in."

Dan Weber: Drums

5. The Road Map of America / Lost Days Long Nights

"The road-map that is America unfolding ahead of me
from God's own glove compartment."

Sean Divine: Vocals
Rebecca Young: Bass
Hugh Sutton: Accordion
Dan Webber: Drums
Organ: Ron Weinstein

6. Hypothetical Reality / King's Dream

"There is no God or forever, and for that, I thank God, forever!"

Grace Park: Vocals
Jesse Dalton: Bass
Noah Jeffreys: Violin, Mandolin

7. Doors / Plain to See

"But, I wasn't entering. I was exiting."

Grace Park: Vocals
Noah Jeffries: Violin, Mandolin
Jesse Dalton: Bass
Will Dowd: Drums

8. The I's of Evil / Antichrist

"Hell has always been at the center of the earth, however, the earth's core is now hollow and hell is emptiness."

Grace Park: Vocals
Jesse Dalton: Bass, Keyboards
Will Dowd: Drums
Oliver Steck: Trumpet