Albums
Matadors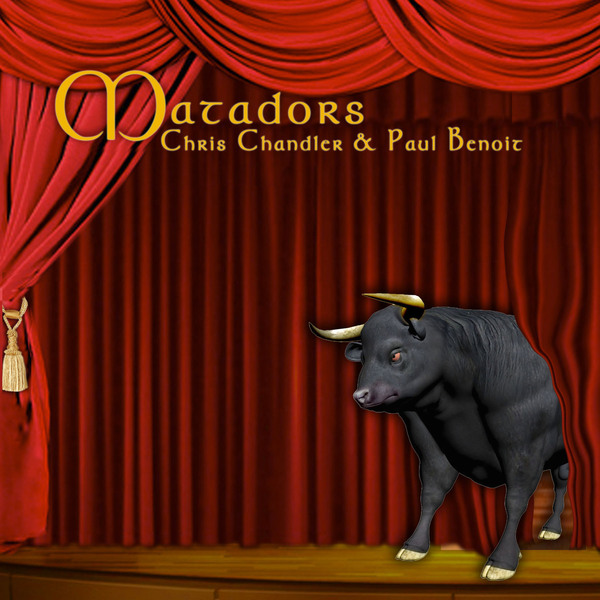 2011
This is the 2nd album from Chris Chandler and Paul Benoit
1. Matadors/ Flyer Girl Chris Chandler/Paul Benoit
"Reality is merely an illusion - albeit a persistent one." - Albert Einstein

2. Winter Song/ Girl from The North Country Chris Chandler/ Bob Dylan
"winter doesn't give a soft white damn whom it touches." - ee cummings

3. Oakland/ When Luck Calls Your Name Chris Chandler/Paul Benoit
"I would rather be ashes than dust." - Jack London

4. Lightning Bugs & Barflies/ Stand by Me Chris Chandler/ Ben E King, Jerry Leiber, Mike Stoller
"We must hang together or we shall hang separately." - Benjamin Franklin

5. One Percent / 10 Ton Shoes Chris Chandler/ Paul Benoit
"I will believe in Corporate Personhood when I see a Corporation on death row." - Chandler
6. Freedom is/ Bird on the Wire Chris Chandler/Leonard Cohen
"Freedom is what you do with what's been done to you." - Jean-Paul Sartre


7. Piloting Paper Airplanes/ Rocket and The Stars Chris Chandler/Paul Benoit
"PT Barnum was wrong... The Greatest Show on Earth - is life." - Chandler

8. Stagehands/ Bloom Chris Chandler/Paul Benoit
"If you really want to help the theater, don't be an actress, Be an audience." - Tallulah Bankhead

9. Rings/ Love is a Stranger Chris Chandler/Paul Benoit
"the sacred hoop of my people was one of the many hoops that made one circle, wide as daylight and as starlight, and in the center grew one mighty flowering tree to shelter all the children of one mother and one father." - Black Elk

10. Afterlife/Can't Stop Me Chris Chandler/ Paul Benoit
"Do for this life as if you live forever, do for the afterlife as if you die tomorrow." - Ali ibn Abi Talib


Album Mastered at 31st Ave Studio, Seattle, WA by: Jakael Tristam
Album Art: Chris Chandler and Jen Delyth
Photography: Unsure Yet

THANK YOU
Jen Delyth, our families, friends, fans, Blake, Jakael, Dan, Anne, Brino, Michelle, George, Chris and Liana.
Executive Producers: Sig Nagys, Melinda Clyne, 9th Wave Publishing
Produced by: Paul Benoit