Muse and Whirled Retort Archives 2007
The Muse and Whirled Retort January 2007
Monday, January 1, 2007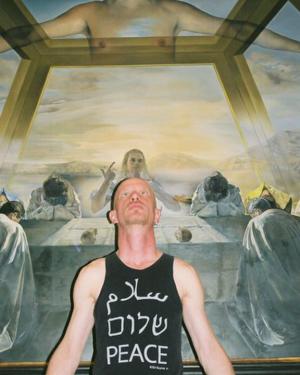 January, 1 2007 Volume VIII Issue iii
T.A.B.L.E. .O.F. .C.O.N.T.E.N.T.S.
*********************
Happy New Year
Brand new stuff for December

How to get stuff

Greetings and quick run down of recent past and the near future

The Muse and Whirled Retort

Announcements

The DR is In

"Thank You!"

Dates

****************************
BRAND NEW for January 2007:
FLASH! FLASH! FLASH! FLASH! FLASH!
Today is January 1st and I, hungover, am headed to the studio in
Takoma Park to pick up the finished and mastered NEW CD, AMERICAN
STORYTELLER VOLS. III & IV!! https://chrischandler.org/index.php?page=notes
We have been in the studio all month, creating another double CD with
fabulous special guests, bonus features, and of course includes all
the new material from the past year or so as well as a few most
requested favorites!
If you would like to order an advance copy it would sure help a lot:
Advance CD Sales
I have put up one of the new songs on myspace. Give A Listen: Letters
www.myspace.com/chrischandlerorg
We hope to have it in our hot little hands by the time we get to the
Tacoma, Washington date. (see below)
We could still use your help making this CD. Being in the studio is
expensive, and every hour we were in the studio is one we weren't at
your favorite neighborhood coffeehouse making a nickel.
If you are feeling good this month and would like to contribute to
the recording efforts, a donation of a hundred dollars will get you
in the liner notes.
https://chrischandler.org/index.php?page=notes
Enough of the crass commercial announcements. Lets get to the news.
**********************
Welcome to the news letter - It's that time of the month again...

Biggest news this month:
We are booking as we go on this tour across the country and we need
you help. Check the dates for details.
*********************
And now...

T.H.E. .M.U.S.E. .A.N.D. .W.H.I.R.L.E.D. .R.E.T.O.R.T.
The Muse and Whirled Retort
January 1, 2007
Volume VIII Issue iii
Washington, DC
At the top of the new year I would like to share with you a letter a
friend of mine gave to me from his son who was serving in Iraq.
Dear Mon and Dad,
Today is Sunday, January 19th. I have been out at sea for three days
and I am starting to feel better. The first two days I was
completely sick from seasickness and some virus. I come out here out
everyday to the skin of the ship to write letters and whale watch,
which isn't great because I haven't seen any.
But there are plenty of dolphins that swim along the side of the
ship. I watch the horizon and sunset etc. This seems so unreal to
me. I have never seen water this blue before. I have never looked
360 degrees around me and seen nothing but water, clouds the sun and
a fleet of battle ships surrounding me.
Tomorrow is one of my many many training days on the ship to prepare
me for my mission. I will also be training a short time in Kuwait.
This is hard for me to comprehend. It seems like my whole life has
changed in an instant. Yesterday, I was in a classroom learning about
trigonometry and history. I graduated and volunteered for boot camp.
I went to school and graduated as a grunt. I was sent across the
country to train, and now I am being sent across the world to fight.
Today, I am in a classroom learning about tactical urban combat and
nuke, bio, and chemical welfare in the middle of the Pacific Ocean on
my way to experience first hand what I am learning in the class room.
I am not afraid of dying, but I am afraid of what will happen to
those that I love if something happens to me.
Soon enough I will be in the city of Baghdad - in the middle of the
desert- in full combat gear — ready to carry out my mission —
wondering how this happened so fast — wishing I was back home dating
Sheila and taking care of my family, and although I think about this
it doesn't mean I am sad about the choices I have made. It
doesn't mean that by wondering why I didn't make the other
decision because if I didn't do it I would be wondering what if
I had made to other decision — I am not a proud Marine. Just because
I wonder "what if," it doesn't mean I am not proud of what I am
doing or that I made the wrong decision - I am still proud to be
fighting for my country still proud to be participating in Operation
Iraqi Freedom.
I am being called back now I need to send this letter in the next
hour for it to get there by Tuesday or Wednesday. I would love to
keep writing but I really have to go.
I love you both very much,
Alex
And here is another letter.
This one is from Sgt. Jimmy C Gary and it is dated Tuesday, May 31
Lance Alex Arredondo served as a fire team leader during a fire fight
during the battalion's attack on the old city of Najif. As the
platoon attacked to clear a 4 story hotel, it was heavily engaged by
enemy machine gun and sniper fire from three different directions —
Lance Corporal Arredondo returned fire, exposing himself to great
risk to make sure the members of his team were safe.
After fearless exchanging fire with enemy snipers for more than 3
hours Lance corp. Alex Arredondo fell mortally wounded as he moved
through the rooms to inspect the marines defensive positions.
This is all the information I have at this time.
Sgt Jimmy C Gary Assistant Training Chief
******************
The Announcements
We are looking for dates in Northern, CA, Southern, CA
Arizona, New Mexico, Texas, Louisiana
See below for details
****************
Yes, The album is done and at the manufacturer. You can pick up your advance copy at https://chrischandler.org/index.php?page=notes
******************
We are still looking for some dates in Texas and southern, CA and Arizona and Louisiana!
*****************
T.H.E. .D.R. ..I.S. .I.N.
THE DOCTOR IS IN
Now we bid farewell to 2006, no big whoop. No big revelations. War
drags on. Chandler and I tour. New Orleans languishes. Mardi Gras was
bittersweet. Orpheus still loves Eurydice. Okeedokee yields veggies.
I work as a stagehand for the Martin Luther King Memorial
groundbreaking, the Air Force Memorial dedication, The Bare Naked
Ladies, The Cheetah Girls and other notable events. Thanks Pat Barnes
and Co. for the work. I helped produce a children's album for Nick
and Joanne NicoloWhimsey.com/, and an album of gospel tinged brass
band music for The Music City Brass Band Music City Brass. Our new
American Storyteller album is full of beauty and love and sadness and
hope. You can hear Letters at Letters . Hope to see you out there
on the open road as Chandler and I head west.
Get our bios and press friendly pictures and ready to use press
releases and quotes Sonic Bids Online Press Kit
Hear our MP3s, view videos and maybe become a "friend" on MySpace
For complete tour dates, visit Tour Calendar
Visit our personal websites Chris Chandler and David Roe
Call us on the phone. Chandler 240 476 4976 DR 504 525 1973
T.H.A.N.K. .Y.O.U.
~Henry Cross ~Frank ~Maverick ~Anne Feeney ~Shirley ~Mom~ Fishman~
Phil and Angie
******************
HERES DA DATES
Friday, January 5th, 2007, 8 pm
Columbia, MO
Open Borders Music Series
2615 Shepard Blvd
573-673-7401
Saturday, January 6th, 2007, 8 pm
St Louis, MO
The Schlafly Tap Room
2100 Locust
Tuesday, January 9th, 2007, 7:30
Los Altos, CA
Home of Chuck and Joanne Narad
5872 Arboretum Dr
650 208-7788 (Joanne's cell)
Wednesday, January 10th, 2007, 8 pm
Williams, OR
Rock Creek Shop, 700 rock creek road, Williams
700 rock creek road,
Thursday, January 11th, 2007, 7:00 PM
Salem, OR
Salem House Concerts
Old Central Salem
503 378 7704
http://www.home.teleport.com/~blueman
Friday, January 12th, 2007, 8pm
Tacoma, WA
Northern Pacific Coffee Company
401 Garfield Street South
253-537-8338
Saturday, January 13th, 2007, 9:00 PM
Port Townsend, WA
Sirens
823 Water
360.379.1100
http://www.sirenspt.com
Sunday, January 14th, 2007, 7:30 PM
Seattle, WA
Paul Trebach's Home / A house concert
6755 27th Ave NW
206.719.5962
Monday, January 15th, 2007, 9 PM
Bellingham, WA
Acoustic Green Frog Tavern
900 N. State St.
360.756.1213
Tuesday, January 16th, 2007
Victoria, BC
Solstice Cafe
529 Pandora Street
250.475.0477
http://www.solsticecafe.ca
Wednesday, January 17th, 2007
Vancouver, BC
The Railway Club
579 Dunsmuir Street
http://www.therailwayclub.com/
Thursday, January 18th, 2007, Noon
Olympia, WA
Puget Sound Community College
2011 Mottman Rd SW
Friday, January 19th, 2007, 2pm
Salem, OR
Phoenix Grand Hotel
201 Liberty St SE
503 540 7800
Friday, January 19th, 2007 8 PM
Portland, OR
The Lighthouse Intentional Community
With Adam and Kris
2111 SE Madison
503 616 4795
http://www.lighthousepdx.org/lighthousepdx.html
Saturday, January 20th, 2007
Eugene, Or
Sam Bond's Garage
407 Blair
541-431-6603
http://www.sambonds.com
Sunday, January 21st, 2007, 6:30
Bandon, OR
Bates House
http://janetBates.com
Tuesday, January 23rd, 2007
Ashland, OR
TBA
for more info: frankie@frankiehernandez.com
WED JAN 24
ANYONE IN NORTHERN, CA?
REDWAY, WILLITS?
Thursday, January 25th, 2007, tba
Nevada City
Cooper's Saloon
235 Commercial St.
(530) 265-011
http://coopersnevadacity.com/
Friday, January 26th, 2007, 8 pm
Berkeley, CA
House Concert - Hali Hammer
1609 Woolsey Street
510-649-1423
Saturday, January 27th, 2007, 7:00PM
San Francisco, CA
The Beat Museum
With Tim Mason
540 Broadway (at Columbus)
415 399 9626
http://www.thebeatmuseum.org/
Sunday, January 28th, 2007, 11:00 AM
Watsonville
Radio interview at KPIG!
1851 BRANCIFORTE DR
http://www.kpig.com
Sunday, January 28th, 2007, 7:30 PM
Berkeley, CA
La Pena
With Dave Lippman
3105 Shattuck Avenue
http://www.lapena.org/
Monday, January 29th, 2007, 8pm
Downtown Felton, CA
Don Quixote's International Music Hall
6275 Highway 9
831-603-2294
http://www.donquixotesmusic.com
***********
OK OK
Things get crazy here
Due to a scheduling conflict we are shifting dates like crazy here
In short we need SERIOUS HELP in Texas
TENTATIVE: January, 30, 2007
Phoenix, AZ
Anderson Artists
Check website for details
TENTATIVE Thursday, February 1st, 2007, 8:30pm
Ft. Worth, TX
Black Dog Tavern
2933 Crockett
817-332-8190
Tentative Friday, February 2nd, 2007
Flower Mound, TX
Home of John and Regina Fierke
3025 Yale Dr.
Tentative Saturday, February 3rd, 2007, 9 PM
Houston
Dan Electro's Guitar Bar
1031 E 24th
713-862-8707
http://www.danelectrosguitarbar.com
WE NEED DATES IN COLLEGE STATION AND AUSTIN ON 4, 5 OR 6!!!!!!
Friday, February 9th, 2007
David Roe Solo
Deadwood, SD
Deadwood Mardi Gras
Main
http://deadwood.org
Saturday, February 10THh, 2007
David Roe Solo
Deadwood, SD
Deadwood Mardi Gras
Main
http://deadwood.org
Chandler needs solo dates in the New Orleans area here!
Wednesday, February 14th, 2007, 8 pm
Baton Rouge, LA
Brew Ha Ha
Tuesday, February 20th, 2007
New Orleans, LA
Mardi Gras
From the Bywater to the Quarters
Wednesday, February 21st, 2007, Feb 21-25
Memphis , TN
Folk Alliance
We need Dates between Memphis and Pensacola on 26 27 and 28
March 1 Pensacola, FL WUWF Radio Live
Tentative
Friday March 2
Atlanta, GA
The Eye Drum
With David Lippman
Tentative
Saturday March 3
Chapel Hill, NC
The Skylight Exchange
With David Lippman
WE Need a date between Chapel Hill and Washington, DC!!!!
See you on the open road