Muse and Whirled Retort Archives 2007
The Muse and Whirled Retort. June 2007
Monday, June 18, 2007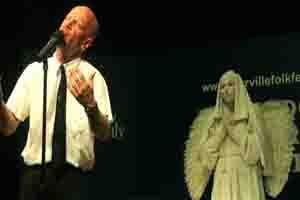 June 1, 2007
Volume VIII Issue viii
New Orleans, LA
T.H.E. .M.U.S.E. .A.N.D. .W.H.I.R.L.E.D. .R.E.T.O.R.T.
To subscribe click https://chrischandler.org/index.php?page=signup
To unsubscribe reply with the word unsubscribe in the header
****************************
T.A.B.L.E. .O.F. .C.O.N.T.E.N.T.S.
*********************
New stuff for June


How to get stuff


Greetings and quick run down of recent past and the near future


The Muse and Whirled Retort


Announcements


"Thank You!"


Dates


******************************
BRAND NEW This Month.
Also this month:
NEW CD, AMERICAN STORYTELLER VOLS. III & IV!!
http://www.cdbaby.com/cd/chrischandler10
I have FINALLY gotten them back from the manufacturer and am mailing copies to CD Baby TODAY " thanks for the requests.
We have created another double CD with fabulous special guests, bonus features, and of course including all the new material from the past year or so as well as a few most-requested favorites!
Click here to order a copy: http://www.cdbaby.com/cd/chrischandler10
I have put up one of the new songs on myspace. Please sign up. www.myspace.com/chrischandlerorg
I hate myspace (for the record) but one HAS to do it.
PLEASE sign on and be my friend. I'll give you free down loads.
**********************
Greetings and Quick rundown of personal news:
It's that time of the month again...
So sorry it is so late coming out this month. I have been at the Kerrville Folk Festival and I am exhausted. I performed with David Morreale and had a fabulous time.
http://mudsongs.com
http://www.myspace.com/davidmorreale
http://www.davidmorreale.com
The solo shows are going very well. I had one last night and one tonight! I am booking the summer and I need your help.
I am looking at a route from Washington DC through St Louis, Kansas City, to Seattle down to Santa Cruz back up to Victoria back to Eugene, OR and then back to DC. Particularly I need dates from Kansas City to Seattle in Early July and ANYWHERE from Eugene to Washington, DC in Mid August " see below for details.
If you can help out with a house concert or know of a venue " please drop me a line
Enough of the crass commercial announcements. Let's get to the Muse.
Lots of love y'all " and see you on the road.
*********************
T.H.E. .M.U.S.E. .A.N.D. .W.H.I.R.L.E.D. .R.E.T.O.R.T.
The Muse and Whirled Retort
June 8, 2007
Volume VIII Issue vii
New Orleans
The very first thing that happened to me when I got here yesterday was a locomotive sized SUV pulled up beside me as I was stepping from my van here in the 9th Ward. The tinted electric windows rolled down and a well dressed man with a thick European accent asked, "Excuse me sir, could you tell me how to get to the Lower Ninth Ward?"
"Just cross that bridge straight in front of you." I said. It is rare to see that kind of vehicle in this neighborhood, but I was heartened to know there is continued interest in the war-zone rubble that still litters the streets here.
Celebrities still come. I am glad they do but wish they did not have to.
I for one never thought I would ever be interested in being on the Regis and Kelly Show " not that I was like featured or even spoke " but I was there. I guess I was just standing in the right " or maybe wrong place " at the time. My krew had just finished building a planter " an 8 foot by 4 foot by 3 foot wooden box when they were ushered on to the elementary school playground with much fanfare. The crew spontaneously decided we should turn the planter upside down to create a stage for the celebrities to address the crowd that had assembled for the building of a new playground at an elementary school in the 9th ward, across the street from where I am staying.
So it goes.
My mother may be the only one that would be impressed by such brushes with celebrity. I was there to pitch in and " truthfully " out of curiosity.
Disney has created a group called Operation Playground " and they choose The Charles Drew Elementary School in the 9th Ward of New Orleans to have a showy playground built. They had all of the lumber pre-cut and delivered. There were tools and mulch and supplies laid out and color coded.
The good part was that people from the neighborhood did get together with folks from neighboring communities " Bay St Louis, Delacroix, Baton Rouge to do something positive for the community.
The robber-barons of the 19th century - as evil as they were - when they wanted to put on a big showy display of public good they left us with terrific public libraries, concert halls, and train stations. Most of them stand today and are some of the finest buildings in any city in America.
Carnegie Hall, The Mellon Center, Vanderbilt University… The Disney Channel.
The robber-barons of the 21st century create crap. Not just the products they congest the landfills with but their pompously staged acts of high profile compassion not designed to do actual good but to provide "Positive branding" for themselves.
They may not even realize they are cashing in on tragedy. And clearly, they are unaware of the extent of the tragedy they are cashing in on.
Everyone WANTS to be seen as a "do gooder" even the arms manufacturers. Hell, the devil can look himself in the mirror too ya know.
The only place you can kiss your own reflection is on the lips.
When kissing your own reflection you can even slip yourself the tongue but its gonna be cold and flat and two dimensional " Like a Hollywood set.
They used non-pressurized lumber to build a box that you fill with dirt and water? I have hiccups that have lasted longer than those planters will last. They used pine bark mulch " which is like a brothel for termites " in a termite infested wooden city. Not only that " the stuff floats and ummm " it floods here.
Basically they built a nice Hollywood set. They should have paid the children as extras. It was that staged. The playground may have been made of papier mache.
Watching Regis Philbin turn a couple of screws into a sliding board that will last as long as one of Kathy Lee Gifford's sweatshop garments was like watching Ronald Reagan play the part of Mother Teresa.
We need effective, long lasting change down here. Hell, that elementary school needs air conditioning. Can you imagine trying to sit in an unairconditioned class room in New Orleans in June " let alone August?
We need after-school programs to keep kids off the streets. It is the murder capital of the world " and it is almost all poor-on-poor violence. Drugs, flim-flam contractors, fly-by-night developers looking to ramrod rezoning and then flip the project. Countless insurance checks stolen, forged and cashed. Despair. Murder. Post Traumatic Stress Syndrome. Drugs. Murder. Drugs. Drugs. Murder. Drugs.
I came home from a gig across the lake a couple of nights ago to see two HumVees in the Neutral ground and a squad of National Guards intently discussing something. I did not stick around to find out what. Even with the omni present National Guard NOLA has crossed the line to the Murder Capitol of the world. They have manufactured giant foam fingers boasting "We're number one!"
In the French Quarter locals have hired private security to police their neighborhood. Mercenaries, Ye, Mercenaries in the United States of America. This is not Baghdad. But in many ways, when you leave the French Quarter, or uptown, it is like leaving the Green Zone. Last night on their way home from an evening out my friends heard shots ring out at the corner of the Marigny and the Bywater (the corner of rich and poor) Where the mercenaries end and the municipality begins. Lying in the streets was another body. They witnessed it.
http://blog.nola.com/times-picayune/2007/06/no_police_investigate_two_murd.html
Another body, in the United States, another victim of a failed response to a national emergency. We have been as effective in New Orleans as we have been in Fallujah. Yes, we are at war. And the reverberations of that war are being felt at home in immeasurable ways.
So please, don't get me wrong, I am glad celebrities are coming here and presenting programs " raising awareness - superficial or not. When this program aired Regis was trying to show the article in the Times-Picayune about their visit. However the banner headline was about the murder rate " it flashed obviously on the screen and he was forced to acknowledge it. If that helps bring a little awareness " then I am glad.
I will be a whole lot more glad when we are raising awareness of what a wonderful community this is. And it is.
*****************
Welcome to the World. You are a lucky boy to be born to such terrific parents: Julian West son of Mike West and Katy Euliss. Born June 4, 2007. www.truckstophoneymoon.com
And Mary Mae Forsyth born April 16, 2007 to Le Easter and Guy Forsyth
*******************
Congratulations to Elizabeth and Emmet on such a lovely wedding ceremony atop the numinous Crow's Nest at the Kerrville Folk Festival.
*******************
The Memorial for Blair Walking Hawk Powell was moving. My Brother Always. You are missed. We all heard the thunder clap as Brian QTN reached the climax of his remembrance of you.
*********************
Most of you know how much Kerrville has meant to me over the past 17 years so allow me to dwell a second. We received what is known in Vaudeville circuits as a "Holy Gasp!" When the audience is so overwhelmed the can not applaud. Nothing. You could hear a pin drop at the end of one of the numbers. WOW!
Followed by three standing Ovations! WOW!
On three different occasions someone from the audience rushed the stage to hug me. I have never seen that happen there. I was over-overwhelmed!
Thank you to the Kerrville Folk Festival for having us!
*******************
I will be working this summer on the west coast with Paul Benoit as my musical director. I know Paul from years at the Oregon Country Fair and The High Sierra with Hanuman /www.paulbenoitmusic.com/
************************
I am looking for others in other parts of the country that would be willing to back me up for tours in your region.
*************************
The debut of "Paterson" went very well and I've been invited to show it at this year's Great Labor Arts Exchange at the National Labor College in Washington, DC.
It is a 20 min poetic documentary about a labor dispute in 1913 that helped to bring America the 8 hour day.
T.H.A.N.K.S. .T.H.I.S. .M.O.N.T.H. .T.O.:
Anne Feeney, David Morealle, Claire C Chandler, Eddie Owens, Andrea Garland and Jeffery Holmes, Jessica Radcliff, Susan Martin, Oliver Steck, Adam and Kris, Stephanie Corby, Tom Bianchi, Owl Morrison, Tim Mason, Shannon Flattery, Kelly Miller, Jim and Catherine Infantino, Camp CALM, Camp Stupid, Camp Cuisine, Dalis Allen, The Green Room, Dave Brinks, The Gold Mine, Eddie Owens, Shirley Myers, Johnny at Takoma Auto Clinic, Kodac Harrison.
N.O.W. ..H.E.R.E.S. .D.A. ..D.A.T.E.S.
Wednesday, June 13th, 2007, 8 PM
Decatur, GA
Eddie's Attic
Opening for Vancouver's Clumsey Lovers
515-B North McDonough St.
404-377-4976
http://www.eddiesattic.com/
July 1, 2, 3
Looking for anything in Pittsburgh, Cincinnati, Louisville, KY
Anyone out there wanna throw a party?
Wednesday, July 4th, 2007, 8pm
Cobden, IL
Yellowmoon Cafe
110 Front Street
(618) 893-2394
http://yellowmooncafe.com
Friday, July 6th, 2007, 8 pm
St Louis, MO
The Schlafly Tap Room
2100 Locust
Saturday, July 7th, 2007
Kansas City, MO
TBA
Contact kcpegasus@aol.com
For info
July 8 through 12
Looking for anything between Kansas City and Seattle
Friday, July 13th, 2007, 12:30PM
Outside Eugene
Oregon Country Fair Hoarse Chorale
http://www.oregoncountryfair.org
Friday, July 13th, 2007, 5:00 PM
Outside Eugene
Oregon Country Fair Keasey Stage
http://www.oregoncountryfair.org
Sunday, July 15th, 2007, 12:15 PM
Outside Eugene
Oregon Country Fair Blue Moon Stage
http://www.oregoncountryfair.org
Looking for anything in Ashville, Southern OR Northern, CA July 17 through 20th?
Anyone wanna throw a party?
chandler
Friday, July 20th, 2007, 7:00PM
San Francisco, CA
The Beat Museum
540 Broadway (at Columbus)
415 399 9626
http://www.thebeatmuseum.org/
Saturday, July 21st, 2007, 7pm
Berkeley, CA
House Concert - Hali Hammer
1609 Woolsey Street
510-649-1423
Sunday, July 22nd, 2007, 11:30 AM
Watsonville
Radio interview at KPIG!
1851 BRANCIFORTE DR
http://www.kpig.com
Sunday, July 22nd, 2007, 7:30
Capitola
Louis La Fortune/House Concert - TENTATIVE
831-476-5019
Monday, July 23rd, 2007, 8pm
Downtown Felton, CA
Don Quixote's International Music Hall
6275 Highway 9
831-603-2294
http://www.donquixotesmusic.com
Wednesday, July 25th, 2007, 6:30 PM
Florenace , OR
Siuslaw Valley Library - Bromley Room
1460 9th St (At Maple)
541 997 3132
Thursday, July 26th
Chehalis, WA
The Matrix
434 NW Prindle St
360.740.0492
http://www.matrixcoffeehouse.com
Friday, July 27th, 2007
Seattle, WA
TBA
contact
amy@fudosys.com
for more information
Saturday, July 28th, 2007
Vashon Island, WA
TBA
Sunday, July 29th, 2007
Seattle, WA
House Concert
With Charlotte Thistle opening
http://www.netos.com/agirlwithaguitar/
Spirit House
6911 12th Ave N.E.
Tuesday, July 31st, 2007
Olympia, WA
Plenty
200 4th Ave
360-705-3716
Friday, August 3rd, 2007, 9:00 PM
Courtanay, BC
Joe's Garage
I would really like to fill this prime date.
General call to anyone in Northern WA
Saturday, August 4th, 2007
Victoria, BC
House concert at
At the Orchard's
Sunday, August 5th, 2007
Vancouver, BC
Rhizome Cafe
317 East Broadway
Monday August 6th
Anyone in Northern, WA?
Tuesday August 7th
Anyone between Seattle and Eugene?
Wednesday, August 8th, 2007
Cottage Grove, OR
Axe and Fiddle
657 East Main Street
541-942-5942
http://axeandfiddle.com/
Thursday, August 9th, 2007, 8:00
Portland, OR
Mississippi Pizza
3552 N. Mississippi Ave.
(503)288-3231
http://mississippipizza.com
Friday, August 10th, 2007
Vernonia, OR
A house Concert
contact:
heavypettingzoorocks@yahoo.com
for info
Saturday, August 11th, 2007
Eugene, Or
Sam Bond's Garage
407 Blair
541-431-6603
http://www.sambonds.com
Anyone between Eugene and Washington, DC?
I am looking for a couple of gas money shows from August 12 to August 20
I am getting (at present) about 250 miles per 50 bucks " you do the math.
Thanks as always for your help!
Y'all are the best people anyone could ever ask for on a mailing list.
chandler