Muse and Whirled Retort Archives 2004
The Muse and Whirled retort January 2004 - the year in review!
Thursday, January 1, 2004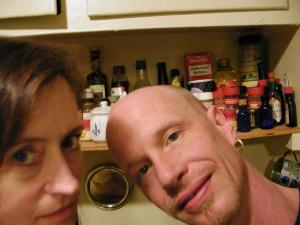 T h e M u s e a n d W h i r l e d R e t o r t
January 2004 Volume 5 issue 5
By: Chris Chandler
Washington, DC
Hey everybody,
It's that time of the month again - only it's really that time of the year - and since it's the New Year - I was thinking about George Santayana, who said, "Those who forget the past are condemned to repeat it," and since George Santayana said, "Those who forget the past are condemned to repeat it," I thought I would go ahead and repeat the past in the hope that we can forget it.
January 2003
The year starts off with U.S. troops leaving the newly formed nation of Afghan-a-mart® and pulling up to the pumps at the Persian Gulf® Station demanding that Saddam Hussein either give back the weapons of mass destruction we sold him or immediately install pay-at-the-pump and develop a taste for Frappucinos®. But that story was overshadowed by the arrest of Pete Townshend on the grounds that he visited a kiddie porn site called "Hope-I-die-before-I-get-old.com."
Townshend's arrest prompts Who fan and FCC Chairman Michael Powell (son of Secretary of State and non-Who-fan Colin Powell) to demand the removal of all porn sites from the Internet. After swift compliance, the Internet is left with only one site - "www.we-want-our-porn-back.com"
Pennsylvania Governor Tom Ridge is spared a recall by being removed from office by President Bush and given the post of Homeland Security chief. Three hundred and forty seven known Al Qaeda members surrender, saying, "there is no way we can outwit all that duct tape and plastic sheeting."
February 2003
On the first of the month, in the first of several bizarre outer-space encounters, the space shuttle Columbia explodes, causing NASA® officials to blame Chinese-made heat tiles. China responds by denying responsibility and suggesting that perhaps NASA should stop sending people into outer space in rockets built by the lowest bidder.
Six months later, China successfully sends their first Taikonaut Yang "Buzz" Liwei into orbit.In an unrelated story, on February 11th astronomers at Yale University® confirm the "big bang theory" though skeptics note that the world needed no confirmation of the theory - and that the astronomers should call back when they can drop the word theory from their proclamation.
Protesting U.S. militarism around the world, millions gather in London, New York, San Francisco, Cairo, Paris, Sidney, and West Warwick, R.I., where the band Great White attempts to show the denizens of a small nightclub what bombs look like when they explode. The demonstration kills over 100, including guitarist Ty Longley.
On February 26th Michael Jackson admits to British TV that he has "slept with many children." In a possibly related story, Fred Rodgers dies on February 27th. Astronomers at Yale University rename Asteroid Family 26858 Misterroggersneighborhood® in his honor (really).
March 2003
Operation Iraqi Freedom is officially launched on March 19. Upset by lack of French participation in the festivities, the congressional cafeteria replaces "french fries" on the menu with "freedom fries." The Discovery Channel® bans Jacques Cousteau reruns, slam poets openly admit they have never read Rimbaud, and California wine makers start an anti-French campaign, boasting, "We will sell no wine before it is bottled."
April 2003
While using Mapquest® on the road to Baghdad, amnesia patient and future recipient of a multi-million-dollar book deal Private Jessica Lynch makes a wrong turn and is involved in a car accident. An argument over who is at fault turns ugly, leaving twelve dead. Lynch, who was knocked unconscious in the crash, is taken to a nearby hospital and released four days later under the supervision of a platoon of special forces. Steven Spielberg and Tom Hanks team up for a multi-million-dollar made-for-TV drama of the event called "Saving Private Lynch." In an unrelated event, five months later CBS announces it will not release another made-for-TV movie,
"The Reagans," because it is not historically accurate.
Meanwhile, other U.S. troops know better than to use Mapquest® and enter Baghdad to pull down a statue of Sadam Hussein. Hundreds of Iraqi children cheer as statue lands atop Bill O'Reilly, giving new meaning to the word "embedded." In a scene reminiscent of the burning of the Alexandria library, news accounts filter out about rampant looting in the cradle of civilization - museums are left empty and somehow Dick Cheney® winds up with a stone tablet copy of the Babylonian Beacon-Journal (first edition, printed in cuneiform) sitting on his coffee table beneath the latest issues of Guns and Ammo, Men's Health, and the swimsuit edition of National Geographic.
According to Cheney® all weapons of mass destruction were moved from Tikrit to North Korea, Iran and Omaha, NE.
May 2003
An AWOL Texas National Guard pilot is flown in a jet to an aircraft carrier in the Persian Gulf wearing a costume from "The Matrix." Standing in front of a banner that reads "Mission Accomplished," said airman announces to the world that the war is over and he will now begin cutting veterans' benefits. Watching from a satellite TV, members of the Paris, TX VFW begin chanting, "Where were you in '72?"
Stock prices in KB Toys soar as the store simultaneously announces the release of a new action figure.
http://www.kbtoys.com/genProduct.html/PID/2431939/ctid/17/place/ aguc?_ts=n&ls=collect&_e=3ff32&_v=3FF32A6BvnICa55FAD03A570&_ts=y
In an unrelated story, stock prices of cake-decorating tubes plummet as happy homemaker Martha Stewart® is charged with obstruction of justice and securities fraud, leaving postfeminists everywhere pondering the fashion possibilities of the orange jumpsuit. Cast members of Bravo's "Queer Eye for the Straight Guy" are hired to "tidy up" Ms. Stewart's cell.
The month's most profound, earth-shattering and otherwise unbelievable story is Chris Chandler and Anne Feeney perform at the Kerrville Folk Festival.
June 2003
Fox news anchor Bill O'Reilly announces on June 5th that New York Times journalist Jayson Blair has been forced to resign from the paper under charges of "journalistic fraud" - prompting O'Reilly to declare Fox news the new "source of public record."
Al Franken's "Lies and the Lying Liars who tell them: A Fair and Balanced Look at the Right" reaches No. 1 on the New York Times bestseller list.
Bill O'Reilly sues Franken for the unfair use of the word "fair," which O'Reilly claims he owns. In a unanimous decision, the California Supreme Court decides O'Reilly is not guilty by reason of insanity and cites as evidence his tendency to continually mutter beneath his breath and then out of the blue shout "SHUT UP!" at anyone to the left of Spiro Agnew. Fox News announces that it will keep O'Reilly on the payroll, citing a California statute preventing employers from discriminating against the mentally handicapped.
July 2003
Canada announces the legalization of gay marriage. congress responds by placing a ban on Canadian pharmaceutical Ecstasy.
August 2003
On August 10th, Russian Cosmonaut Yuri Malenchenko became the first person to exchange wedding vows from outer space. His earthbound bride proclaims that they will honeymoon in Canada pointing out that, "that place really is outer space."
Soon to be new Canadian Prime Minister Paul Martin replies, "If ya think about it - we're all really from outer space." In a purportedly unrelated story, Canada decrimininalized marijuana use a month earlier.
A European heat wave causes the death of thousands. CIA director George Tennet claims the event was prompted by Saddam Hussein's secret weather ray-gun -- which is also responsible for the mysterious power outage across the U S.
However, further investigation concludes that a little known provision in George Bush's "no-child-left-behind" program actually triggered the incident. It seems that in Akron, Ohio concern about recess safety prompted the Akron board of education to purchase 7000 copies of virtual 4 Square from Game boy 2. The usual 3:00 recess period causes a power failure from Montreal to New York City. Lower Manhattan is renamed little Baghdad as New Yorkers struggle to consume all of the melting Ben and Jerry's in the east village. The New York Times claims it is the worst disaster since 9-11. People in Baghdad left powerless since US bombs started falling in 1990 disagree. Jayson Blair is blamed for the error.
September 2003
Howard Dean surges ahead in the "Anyone but Bush Campaign" as Mars moved closer to earth than it has since humans first discovered masturbation. This marvel coupled with other astronomical phenomenon prompted viewers to cheer as Arnold Schwarzenegger® announces he will run for the governorship of California. Unaware that he had made the announcement on a comedy show,Schartzanagger® takes the cheers to mean he can actually win. Californians, who get most of their news from comedy shows agree.
October 2003
Arnold Schwarzenegger® wins -- triggering celebration by comedians everywhere. Gray Davis, donning a cheap Austrian accent reacts to his loss by saying "I'll be back."
Pope John Paul celebrates his 25th year of popedom as the Episcopalians announce the consecration of Reverend Gene Robinson as the first openly gay Bishop. Pope John Paul objects to the word "open" and asserts that homosexuals should not use condoms either.
November 2003
Michael Jackson® is photographed and fingerprinted by Santa Barbara Police. He is charged with engaging in lewd and lascivious conduct with a child under the age of 14. The minor, whose identity is not being disclosed, stands to recover millions in a civil suit against Jackson (45).
Meanwhile, teenager Lee Boyd Malvo is convicted of murder in the DC sniper case. Though only fourteen at the time that he began his sniper training under the tutelage of forty-five year old John Mohamed , Malvo was found guilty by the Virginia jury. Now just who got fucked here?
December 2003
Saddam Hussein is captured by Kurdish soldiers and placed in a below ground cell until turned over to American officials. Americans, encouraged by the success of the movie "Saving Private Lynch," announce "We Got Him."
Footage of Saddam being checked for lice is put on auto repeat on all televisions across the world for the following two weeks. Ratings soar. CNN announces it will go to all-Saddam's-head-lice-all-the-time. Four other news stations follow suit.
Now that Saddam is in custody, George W Bush announces the war crimes "trial" will take place as far away from the United States as possible - and will not be covered by the news media at all - and suggests that any coverage of Saddam's trial should run side by side and concurrent with the Michael Jackson trial in the hopes of deflecting attention from anything the dictator may reveal about his relationship with the United States and/or Dick Cheney over the past two and a half decades.
These plans are scrapped when an earthquake in Iran kills 50,000 prompting defense secretary Donald Rumsfeld to claim that Saddam's "secret earthquake machine" is implanted in the former dictator's frontal lobe and the only hope for world peace is to give him an immediate lobotomy.
Michael Jackson complains, "What was I arrested for?"
The Jury is still out.
**********
Well, folks - thanks for a wonderful year! We hope to see you out on the road! Anne and I
clocked in at over 200 shows in 2003! We are both hoping for our own sanity that we will get that
number down in 2004! So here is hoping that everyone works less and makes more in 2004.
*************
Anne is doing a 2 week solo tour on the west coast - followed by a longish west coast tour for the
two of us. As always if you see any holes in our calendar and ya know of something we could get
into - please let us know!
**********
As always you can get our latest CD "Live from the Wholly Stolen Empire"
click here
***********