Muse and Whirled Retort Archives 2010
The Muse and Whirled Retort - December 2010
Saturday, December 4, 2010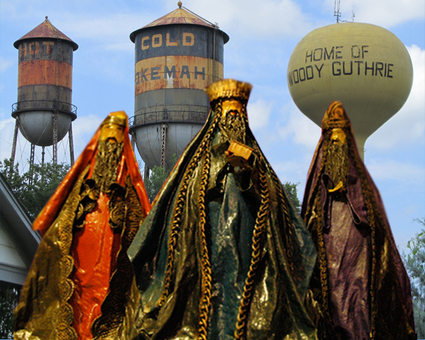 Looking for a gift idea?
Check out Jen's line at
Jen Delyth's artwork
or by pasting http://www.keticdesign.com
How about checking out
I want a chandler CD
or copy and paste: http://www.cdbaby.com/cd/chrischandler12
If you would like to support this newsletter
(and God knows I need it) go to www.chrischandler.org or paste www.chrischandler.org and click the coffee can to your left. It's fun, easy, and makes the world a better place.
Join me on face book
by clicking
for daily one liners
or pasting: www.facebook/chrischandler.org
subscribe to this news letter
by clicking:
I WANT THE NEWSLETTER NOW
or pasting https://www.chrischandler.org/index.php?page=signup
To unsubscribe, reply with the word unsubscribe in the subject line.
*****************************************************
T.H.E. .M.U.S.E. .A.N.D. .W.H.I.R.L.E.D. .R.E.T.O.R.T.
SPECIAL HOLIDAY EDITION
Vol. XII issue iii
December 3, 2010
Lauglin, NV
And so it came to pass that the three wise-men came westward from the four corners across the painted desert and saw the bright neon star above the Tropicana Hotel and Casino in Laughlin, NV illuminating the sky.


~~~~~~~~~~~~~~~


I am not making this up.


~~~~~~~~~~~~~~~


The three wise-men had been locked in a self storage bin in a suburban town east of where the king was born. The king's star had soared high above the land – and as it was fore told -- all of mankind would be forever changed after his arrival.

All of this turned out to be true.

But when the Magi were finally released at the start of this holiday season they had no idea what their first destination would be. And how could they?

They had never been anywhere.

Ya see, the wise-men had been sheltered inside the vacuum of a red and green Tupperware® container, safe from the elements. As a result, they were as healthy as the day they were born – though much had changed in this world since the king's arrival.

No one had visited them in nearly a year and cobwebs and dust were already taking over the storage bin. None the less they had been released and their first destination was to the city where the King was born of humble origins: Tupelo Mississippi.


~~~~~~~~~~~~~~~


My mother loved Christmas.

She made new Christmas ornaments every year for as long as I can recall. When I was a kid I first remember the three wise-men.

They were made of strips of old rags wheat pasted round quart sized 7-Up, Dr Pepper and Cheerwine bottles and then painted with Byzantine robes with kite string for beards The shinny yellow lid to a Prell® shampoo bottle was used as a jewel in one of the crowns. The chest containing the gifts of gold, frankincense and myrrh was made from the red plastic hotel from a Monopoly® set.


~~~~~~~~~~~~~~~


In the time of king Herod, the Magi came to Jerusalem to ask where the king had been born, for they had seen the star rise which foretold of his coming. Herod called his scribes and astrologers into council and it was concluded that he was born in Bethlehem of Judea.

The three wise men were sent, by Herod with gifts of gold, frankincense and myrrh and (most importantly) instructions to return and tell Herod the exact location of his birth.

In short, they were spies.


~~~~~~~~~~~~~~~


My mother passed in February and this Thanksgiving Jen and I returned to my hometown of Stone Mountain, Georgia to plant a Dogwood tree in her honor. It has been my first return home since her passing. Enough time has gone by for me to be able to roll up the storage bin door and take back to Oakland a few precious memories of her.

Gold, frankincense, and myrrh.

Many an olde tale in this world begins with the phrase, "There was no room at the inn." Mine always seem to start with, "My car broke down." This time, it was Thanksgiving Day.

Ironically, my car decided it wanted to stay behind the electronic security gate of a self storage bin – with an unplanted dogwood tree filling the back.

While waiting on the tow truck, I decided to look through more of the boxes stacked inside the storage bin in search of more treasures: the vestiges of a life now enshrined in zip-lock ® baggies and neatly folded and stuffed into Tupperware ® containers awaiting their fate to be decided by her heirs.

Afterlife.


~~~~~~~~~~~~~~~


When the wise-men found the Holy Family they did indeed present the gifts of gold, frankincense, and myrrh. But more importantly, upon their arrival to Bethlehem on the 12th day of Christmas, the Magi had an epiphany.

Much like the former slave trader, John Newton writing "Amazing Grace" as he turned his slave ship around and set his captive cargo free, the kings had a change of heart. They warned the Holy Family of Herod's intent to kill the potential threat to his power.

Epiphany.


~~~~~~~~~~~~~~~


In New Orleans, a ring-shaped cake known as a "King Cake" (as in the three kings) is customarily served from the the twelfth day of Christmas (also known as Epiphany) through Mardi Gras. (The day before Ash Wednesday – and is 40 days before Easter)
The baby Jesus is represented by a small, plastic doll inserted into the cake from underneath, and the person who gets the slice with the figurine is expected to bake the next King Cake.


~~~~~~~~~~~~~~~


It was while waiting for the tow truck that the three wise men emerged. I opened the red and green Tupperware and the profusion of creative child hood memories rose like the dough of my first Chef Boyardee ® pizza. The memory of my mother turning the red plastic Monopoly piece hotel into a treasure chest and then Elmer's gluing it into the hands of a Dr Pepper ® bottle transforming the mundane into holy works of art, called to me.

The wise-men must join us on our journey.


~~~~~~~~~~~~~~~


Jen and I are embarking upon a new chapter in our life together. She was making her first trip across her adopted country. I can not count the number of times I have crossed her purple mountains majesty ®. But together we are experiencing the vast expanse of America ® unfolding before our windshield like a road map as we consider the highways by-ways and dirt roads we could (or could not) take.

Afterall, sometimes the road not taken is for a reason.

Having the wise-men as co-pilot is reassuring somehow.


~~~~~~~~~~~~~~~


Jehovah's Witnesses believe the star of Bethlehem was raised by the enemy of God warning Herod of the threat to his power and that the wicked custom of Astrology practiced by the Magi was a weapon in which Herod could put in jeopardy God's plan.


~~~~~~~~~~~~~~~


It was at that moment that the triple A man (which stands for Archangel of Automobile Assistance) arrived and placed the magic cables from his magic box upon the battery terminals of a 1996 Saturn and like Lazarus, she roared back to life.


~~~~~~~~~~~~~~~


Not knowing the Holy Family had been warned, King Herod sent armed forces to kill all of the young children in Bethlehem: The massacre of the innocents.

However the Holy Family had escaped to Memphis, Egypt.


~~~~~~~~~~~~~~~


And so it came to pass that the three kings made their way to Memphis in a 1996 Saturn so they could witness the giant Chrome Pyramid known as the Memphis Convention Center in Memphis, Tennessee.


~~~~~~~~~~~~~~~


Frankincense: an incense used by religious leaders. The gift represents the church as an institution.

Myrrh: an oil used to preserve the body as it is enshrined becoming the roots from which future generations will grow.

Gold: a metal used as a symbol of wealth as well as accomplishment.


~~~~~~~~~~~~~~~


The Reverend Dr. Martin Luther King Jr was assassinated at the Loraine Motel in Memphis, Tennessee. The Loraine Motel is now a civil Rights museum. Frankincense.

B. B. King defined the sound of Memphis' Blues Music and it is preserved on Beale Street – also known as the B. B. King highway. Highway 61. He is from there. He started it. He is known as the King of the blues. His music served as in inspiration and the roots for what would become Rock and Roll. Myrrh.

Elvis Presley, born in Tupelo Mississippi, became the King of Rock and Roll, He came to Memphis for the music. He lived there. His house in Memphis is a museum to a generation. He had more gold records than anyone else. He has arguably been heard by more people than anyone born in this hemisphere. Gold.

These three kings of Memphis have changed the world by bridging the cultures of black and white. Elvis Pressley imbibed the black roots music of BB King which made it palatable for white audiences by turning it gold, while Martin Luther King used the power and organization of the church to knock down the Jericho walls of segregation.


~~~~~~~~~~~~~~~


After warning the Holy Family, the Magi did not return to Jerusalem as instructed by Herod, and they chose to live in exile for the remainder of their days. There are many stories about what happened to the Magi after that December morning. One having their line pass through Genghis Khan. Another having them make their way to the new country to visit with the Hopi. (Jen insists they were Druids who also foretold the coming of a new king born beneath the star -- there are many stories.)

I know for a fact that they went from Memphis to Okemah, Oklahoma to visit the home of Woody Guthrie, and to Madrid, New Mexico and up to the four corners, and across the Holy Hopi Land.


~~~~~~~~~~~~~~~


As America passed in our rearview, news reports from our two wars flashed by in front of us like mile markers amongst billboards advertising the holiday season, I think to the slaughter of the innocents.


~~~~~~~~~~~~~~~


And so it came to pass that the three wise-men came westward from the four corners (Colorado, Utah, Arizona and New Mexico) across the painted desert and saw the bright neon star of the Tropicana Hotel and Casino ® in Laughlin, NV illuminating the sky.

This time there was room at the inn.


~~~~~~~~~~~~~~~


When crossing the desert I recommend taking refuge in
a Casino – not a manger. If you don't gamble (which I do not) it is a cheap way to rest. The luxurious Hotel room was only $19.00 and it came with a free buffet.

And who is to say that the wise-men will not come to visit?


~~~~~~~~~~~~~~~


The Hotel even gave us each (OK not the wise-men) a five dollar credit card in which to gamble – well I don't do that but under the circumstances...

…I placed the quart-sized figurines on a barstool in front of the one armed bandit. I inserted the card and pulled the handle.

Elvis Presley ® was singing, "Wise men say…" over the Muzac ® sound-system.

Three Stars rolled round and stopped. A chorus of casio keyboards rained from the heavens like a gift.

Gold, frankincense and myrrh.

The room was paid for. I removed the card and put the wise men back in their Tupperware container. They will continue their voyage westward into the setting sun - from the land to the east - across Route 66. Home.


~~~~~~~~~~~~~~~


I left Oakland on October 25 and have been on the road for 40 days and 40 nights. As I return home tonight -- on the 40th night -- I am grateful to all of those who have helped the weary travelers along the way this holiday season.

May there always be room in the inn.

*****************
A.N.N.O.U.N.C.M.E.N.T.S.

I went to see Anne Feeney this week – she is as funny as ever. She was missed at the SOAW this year. We sang "Have you Been to Jail for Justice?" with out her.

If you would like to help support our good friend Anne Feeney this holiday season – she could sure use it. We could sure use her!

You can click here or paste the following. https://www.paypal.com/us/cgi-bin/webscr?cmd=_flow&SESSION=p0xAfqwirRcWJN5Yw7_nolZynKBrYoerbQtBgM_zmFRzSslXoq9XG4Sh-wO&dispatch=5885d80a13c0db1f8e263663d3faee8d9384d85353843a619606282818e091d0

If you are pay-pal savey you can send it via email to
getwellanne@annefeeney.com

******************************
Every now and then there is a little festival that finds a place in my heart. SONiA and Terry Irons are about to celebrate the Susquehanna Music and Arts Foundation's tenth anniversary.

It is a terrific gathering in Havre de Grace, MD and some of my favorite artists to hang with come for the weekend. It is a tiny gathering and a chance to have an itimate one on one with some of the countries best folk artists. Naturally when you get to have that kind of a relationship with the music at such an affordable price – no one is making money. Terry has found a way to do just that. She has found a source for matching grants. It is an event that needs to keep going.

The grant matches all funds we raise between now and Dec 31st, 2010 up to $5000.00. Any donation you can make towards our goal of $5000 would be greatly appreciated.

We are a 501(c)(3). Mail checks to SMAF PO BOX 139 Abingdon, MD 21009 or you can pay thru paypal, our account is smaftix@yahoo.com

This years festival will be May 6-8th, 2011.

****************
At present I have nothing on the books. That is a first.
I am wanting to do about two weeks in late February early March with Paul up in the NW. If you would like to get in on that drop me a line.

******************
Jen and I are starting to look for a new place. Our lease in Oakland, CA runs out I March.
******************
I am unlikely to do anything else until the summer. This last tour kicked my butt and I have to concentrate on stability for a moment. Looking forward to seeing y'all this summer!
********************
Looking for a gift idea?
Check out Jen's line at http://www.keticdesign.com

How about checking out I want a chandler CD
or copy and paste: http://www.cdbaby.com/cd/chrischandler12

If you would like to support this newsletter (and God knows I need it) go to www.chrischandler.org or paste www.chrischandler.org and click the coffee can to your left. It's fun, easy, and makes the world a better place.

Join me on face book: by clicking
for daily one liners or pasting: www.facebook/chrischandler.org

To subscribe to this news letter by clicking:
I WANT THE NEWSLETTER NOW
or pasting https://www.chrischandler.org/index.php?page=signup
********************************

T.H.A.N.K.Y.O.U.

Jen Delyth, Paul Benoit, Marianne Bowie, Anne Feeney, Shirley Myers, Ray, WTUL, Denise, Marshall, Frankie Hernandez, Karen Kelley, Wendy Corn, Susan Martin, Bob Cat and all the folks at Dan Electro's Guitar Bar, Dan Kner, Laura Lee Imhoff, Kathryn Dow, Bruce Feldman, The South Florida Folk Club, Nick Annis, The Breadman, Joe Courter, Ken and CC Connors, Michael Stock, Steve Ellman, Max Doldon, all the good folks at Respectable Street, Paul Klov, David K, Eddie Owen, Hoots and Hellmouth, Karen and Alan Murray, The Get Down, Celine de Loach, Jenaine and Robby, Moksha, Billy Jonas, The Vanuta Kava, Steve Goodie, Barbara, Bill Abner, Atlanta Sound and Lighting, George Mann, Ellise Witt, Jon Fromer, Chris Insera, all the good folks at the Columbus Convention and Trade Center, Liz, Nico, Hendrick, Collen Kattu, Frank, Dorothy, David Kristen, Chandler, Kathleen, Fishman, Sugar and David, Kimberly and Mike, Avondale First Baptist Chruch, The guy at Pike Nursery in Toco Hills, a Menike on US 78, Julie Lenrrradsen, Hillary, Robin and Carolyn, Little Jon, The Okemah Historical Society, Sunita Smith, Reece Trantor, and J.C. Katie and Richard, insert your name here. If I somehow forgot you – I am sorry!
******************************
H.E.R.E.S. ..D.A. .D.A.T.E.S.

Wait… there aren't any.
If you are in the pacific NW and would like to change that… drop me a line.
jcc