Muse and Whirled Retort Archives 2005
The Muse and Whirled Retort September 2005
Thursday, September 1, 2005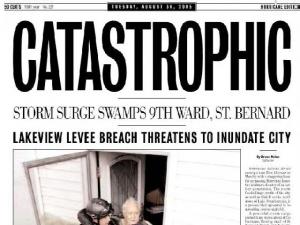 The Muse and Whirled Retort
Volume 6 Issue 11
September 1, 2005
150 miles east of New Orleans, LA USA
BRAND NEW 9/15/05 - VIDEO FOR "9TH WARD NEW ORLEANS"

(Requires Macromedia Flash)
Watch it here [
link
]
NEW! "9TH WARD NEW ORLEANS #2/LOUISIANA 2005 (1927)", RECORDED LIVE 9/1/05 IN PENSACOLA, FLORIDA ON WUWF RADIO
by Chris Chandler and David Roe / Randy Newman.
Download the mp3: [
link
]
NEW: New works by Phil Rockstroh
link
To buy "Something's In The Air" DVD :


[link]
TO GET THE BRAND NEW 2 VOLUME ENHANCED CD SET "American Storyteller:"
[link]
To check out the new CD Vol 1 for free:
[link]
To check out the new CD Vol 2:
[link]
Exile on Bourbon Street coming soon: Washington, DC; Baltimore, Pensacola, Gainesville, Atlanta, Blacksburg, Richmond Austin, SA, Dallas, Houston, Waco, St Louis, OKC, Carbondale, Indianapolis, Champaign, Bloomington, Louisville, Cincinnati, Akron, Athens, Kent, Syracuse, Boston, Western MA NH NERFA, SWRFA and surrounding areas. We need dates, can you help?
And now after the above crass commercial announcements!. . .
************
Hey everybody, its that time of month again, and what a month its been. My city, my poor city.
9 th Ward #2
By Chris Chandler and David Roe
9 th Ward New Orleans, the river has always run through you - but never so literally.
She has always been a part of you - but rarely like this. Your 19 th century widow's peaks are all that peak from a river once held temporarily at bay by the hands of man. Now 21 st century widows stand on your widow's peaks once again staring in vain for the horizon to materialize the lost.
But from the lost your culture has always been found.
It is with you - 9 th Ward New Orleans the melting pot of America melts.
It is from you OUR culture has sailed in from all directions
From wayfaring sailors seeking the roughest of trade as well as barges filled with amber waves of grain.
Here the wholesome and the whore are changed forever. Wholesale.
Whether watching the tops of tankers crest the hands of man while endlessly rocking on stoops, or now on roofs watching the river flow on the streets below. You are Alive.
As we watch your desperate desperados - maybe now we know they have always been there - and that you 9 th Ward New Orleans, like the lands beyond your levees, have always been armed.
The desperate do desperate things when made more desperate. And you 9 th Ward New Orleans have been made the lowest of the low - but like a savior born in the feeding trough of a jack ass - you are the birth of the blues.
America does not understand that you cannot feel the joy of song without the blue note of pain. And it is pain you have felt. So who can blame you when you never do ask "Good Morning America how are you?"
I don't recall America ever asking you.
9th Ward New Orleans, it is you that is alive.
Yes, Lake Pontchartrain once again had it's evil wicked way with you, and you will bear it's pain for a coon's age, and a slow painful birth will come as a distant trumpet joins your blues.
And when the world asks, "What is that sound?", a Caribbean accent will answer, "It's just music. It's Jas Music - yes, it is Jazz music." Your water will break and a new Louis Armstrong will spring from your loins to blow his trumpet with the mouth of your river - and that music - 9 th ward new Orleans , will turn the gulf of Texaco into the sea of Galilee.
************
Louisiana 2005 (1927) David Roe and Randy Newman
What has happened down here is the winds have changed
Katrina roared in from the Gulf and it started to rain
Rained real hard and rained for a real long time
Six feet of water in the streets of That Old Town Of Mine
The Levee broke to the left
The levee broke to the right
Some people got lost in the flood
Some people got away alright
Ponchartrain has busted right down the Canal Street Line
Six feet of water in the streets of That Old Town Of Mine
CHORUS
Louisiana , Louisiana
They're tryin' to wash us away
They're tryin' to wash us away
Louisiana , Louisiana
They're tryin' to wash us away
They're tryin' to wash us away
President Bush flew over in a big jet plane
Didn't stop for a photo op or to shake a hand.
The President say, "They didn't vote for me or my old man, Still look what the water done to these poor people's land."
**********
My dear friends, I try my best to be an optimistic positve person. But I love - no I really love the city of new Orleans . I see her right now as another casualty of the Iraq war. Please allow me to vent for just a second.
Our resources are so stretched that we can not meet our real needs. These are real American citizens being reduced to the basest level of survial because of hapless inept leadership. Where are the black hawk helicopters, the amphibious personnel carriers?
I actually have a great deal of faith in the Army Corp of Engineers. They have accomplished some of the world's greatest feats of engineering ever - HOWEVER Where are they? Iraq .
If we cannot bring order in a city without a cultural barrier, without a language barrier - how can we be expected to bring order in Baghdad ?
Where is the national guard - we are so stretched that my city is being patrolled by The Hattisburg, MS junior High ROTC. And why wouldn't the National Guard be slow to respond? As a general rule people follow by example. George, you were in the National Guard. Perhaps you could explain how this could be.
And tell me, how can one fly from Crawford , TX to Washington DC and NOT fly over NOLA? OK, my bad, you did fly over it - 8 miles high.
George, you remind me of the scene with you in the library when you are told about the terrorist attacks on September 11 almost exactly 4 years ago. Your doe-in-the-headlights expression has cost priceless hours and days. How many more Americans at home or abroad have to die at the hands of this hapless leader. George, Dick. Please resign your office immediately. Bow your head and say I am sorry. I tried but I just wasn't up to the task. Ask for forgiveness and turn the reigns of power over.
**********
CDBaby is doing a promo. ALL proceeds from "Angel of New Orleans " http://cdbaby.com/cd/droerrf
and "Generica" http://cdbaby.com/cd/chrischandler6 are going to the Red Cross.
Check out their list of all artists who are giving 100 %
So, buy a CD.
And pray for the City Care Forgot.
**********
FLASH FLASH FLASH ! CHECK THIS OUT! This video is the best thing I have ever done! See it by clicking: http://chrisvids.org
************
CHRIS CHANDLER AND DAVID ROE ON TOUR
They may be coming to your town!
Check the current schedule here