Muse and Whirled Retort Archives 2006
The Muse and Whirled Retort February,2006
Friday, February 3, 2006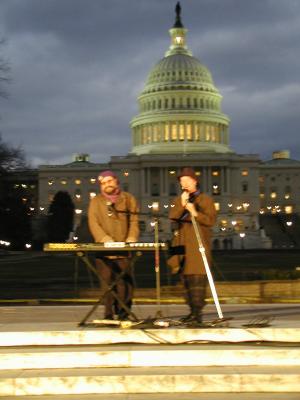 CHECK OUT "THE DUTCHMAN" VIDEO AT
CHRISVIDS.ORG
My friend Andrea's important photos of New Orleans
link
The Muse and Whirled Retort is a monthly newsletter subscribed to by thousands Please feel Free to pass it on to your friends
Feb 1, 2006
By Chris Chandler
Volume VII Issue iv
Washington, DC
Please support this news letter: [
link
]
T.A.B.L.E. .O.F. .C.O.N.T.E.N.T.S.
*********************
Feel free to jump ahead!
Subscription stuff

How to get stuff

Greetings and quick run down of recent past and the near future

The Muse and Whirled Retort

The Dr is in!

Announcements

Dates

********************
To subscribe (I ONLY BOTHER YOU ONCE A MONTH) click:

[
link
]
To unsubscribe reply with unsubscribe in the subject line.
*********************
H.O.W. .T.O. .G.E.T. .S.T.U.F.F.

The New CD is doing great! by Far the best record I have ever made.
TO GET THE BRAND NEW 2 VOLUME ENHANCED CD SET "American Storyteller:" [
link
]
Please check out our three videos at [
link
]
Check out: David Roe's site [
link
]
Check Out Karen Kilroy's Impeachment Shop [
link
]
And now enough of the crass commercial announcements
**********************
HEY HEY and welcome to February!

DR and I just had a terrific run through the North East! Wow, thanks to the success at the Falcon Ridge Folk Festival we were able to have terrific shows in Upstate NY as well as Connecticut and Massachusetts. Great to be in my old home of Boston again!
Also, I had a triumphant return to the People's Music Network. In 1989, after having been on the road for only 6 months, I had planned to quit. A hitch hiker told me about the event and I went intending to be my last hurrah. It was there that I met Pete Seeger (Damn him) who encouraged me to keep going. Otherwise I would be happily teaching theatre in a community college somewhere in Generica (a noble life, mind you, but we would not be having this conversation) Also there I first met Anne Feeney and many others who would prove to be such valuable friends over the next 18 years. Thanks PMN!
The station wagon will now be headed south to Arkansas, Texas and Louisiana. Look Out!
*********************
and now...

T.H.E. .M.U.S.E. .A.N.D. .W.H.I.R.L.E.D. .R.E.OT.R.T.
Feb 1, 2006
Volume VII Issue iv
Washington, DC
Hey everybody,
It's that time of the month again.
Coretta Scott King brought the flags at the Capitol to half mast. The sun was setting as we wheeled a piano to the Ulysses S Grant shrine for the "Sorry State of the Union." Teenagers with M-16s made jokes as they checked our credentials. That's the state of the union. In the cold outside the capitol we gathered. FEMA trucks surrounded the capitol. I walked up to one of the drivers and asked if he needed a map.
Many had assembled to hear Cindy Sheehan speak. But no, as George was standing in front of the mirror working out the differences between his smirk and his sneer, trying to get the pronunciation of "Coretta" and concocting his justification for spying on Americans, his people proved once again that spying works. The armed ushers at the white house donned X-Ray sunglasses discovered well before she had removed her jacket that Cindy Sheehan was wearing a garment that emblazoned how many brave young Americans have been killed over this oil company merger. This is clearly information the president did not want going out to the American people ­ I mean he did not mention it in his State of the Union address.
Was wearing such a shirt inside our capitol building in bad taste? Perhaps, but if we are going to start arresting people for bad taste ­ how come no one touched Laura Bush for that pink dress. Jeeze the gals in code pink dress better than that ­ and Laura, those are costumes.
Dr D and I struck our first chord on stage out side as the president stepped to the podium. The crowd outside was on fire. Inside, only the pants of the speaker were on fire. The voice of dissent was arrested before the president cleared his throat to speak of freedom.
He spent the first ten minutes discussing wire taps. I was thinking that since we have appropriated so much of our money to listening in to these conversations ­ can't we at least have access to it? Shouldn't I be able to pick up the phone and just ask, "Hey, mister secret agent man what time was I supposed to be at the dental hygienist's on Wednesday?" Couldn't we use our CIA agents as sort of a national reminder service? We could have an Ask James Bond.com where you type in questions like, "Where did I leave my car keys?" I could use that service.
But, now that I think about it - as often as those guys are dead (no pun intended) wrong, on the "intelligence" they gather - why on earth would he still want to use them? That is the thing that kills me (no pun intended.) George, if you are going to stay the course and say you had faulty intelligence ­ and you did not outright lie, why on earth would you expand the authority of the folks who got it wrong in the first place?
"There's an old saying in Tennessee - I know it's in Texas, probably in Tennessee - that says, fool me once, shame on - shame on you. Fool me - you can't get fooled again." ­ George W Bush [
link
]
Most people think OJ Simpson was guilty, largely because of his lack of outrage and desire to find the "real killer." George, where is your outrage over finding the real killer? You led this great country into a war claiming a weak foreign country (which happened to have a lot of oil) was about to nuke Davenport, Iowa. Now, we find out that Davenport was safe all along. Her fine citizens have returned from their soviet era bomb shelters, the Duck and Cover films returned to their archives ­ 2500 American lives and 100s of thousands of Iraqi lives later there never was a threat from Sadam. At least not then.
Seems to me, you are either really pissed at who ever told you such a lie or it was you that was lying all along. After listening to your State of the Union Address I conclude it was you that was lying.
I say: Impeachment, it's not just for Blow Jobs anymore.
See ya out on the road.
***********************
T.H.E. .D.R. .I.S. .I.N.

Dr D. David D R Roe's missive:
February 06:
Since 1996, The Krewe of WooHoo! has celebrated all that is good about New Orleans. This year, what with the float floating away and quite a few of the number not returning to NOLA, at least for now, the Krewe's collective coffers are low, and membership is not at an all time high, we are putting membership in the Krewe open to a wider pool of wacky creative and fun loving individuals.
I am encouraging everyone to book a room in New Orleans, bring a costume, and all your personal supplies and some tools. Spend a couple days helping to clean up and fix up the city. Hang with Miss Fay at Coop's and then put on the brightest, wildest Mardi Gras soiree ever.
Arise, Krewe of WooHoo! Arise, ye citizens of New Orleans, ye citizens of Earth and Sea, ye who have risen from the waters once more, whether by intelligent design,
divine intervention, or sheer will, amazing life force, and the strength of the bonds of The Krewe that has kept our family intact and ready to heed the call of Bacchus, Rex, Orpheus and our ancestors, and gives us a chance to greet the Sun as one, and gather at the river all on a
Mardi Gras Day, February 28th, 2006, the day we raise to the throne their most serene and benevolent majesties, Kattai Barrow and Joe Fontana, and celebrate the natal anniversary and miraculous recovery of our Queen Mother, Kathleen Barrow, the Soul of The City.
All Hail the Green King and Silver Queen, Sean, and Juli, who reigned with majesty over this most tumultuous year. Peace be with all of us, and may the Krewe of WooHoo! continue to roll on as a shining example to this sad world that beauty and joy triumph over adversity and that we all have TALES TO TELL, STORIES TO RELATE AND MYTHS TO LIVE AND BELIEVE.
~ Captain DR
For More info: [
link
]
**********************
a.n.n.o.u.n.c.e.m.e.n.t.s.
**********************
Dr. D and I will be going to our old home of New Orleans after the Folk Alliance working for [
link
] We can rebuild her. We have the technology. We can make her stronger than she was before. Better, stronger, faster.
Touchy subject ­ but I am looking for a floor to crash on while I am there.
***********************
We are also tentatively scheduled to be part of the Chautauqua's gulf coast tour in April to benefit victims of the hurricanes. We are planning shows within the areas hardest hit. If you know of a venue in the area interested in putting on this vaudeville review ­ please let me know.
**********************
If you would like to pick up a copy of American Story teller please do so by clicking here. [
link
]
Also, you can download individual songs here: [
link
]
Check out the videos or MAKE A DONATION: [
link
]
***********************
Our new Video produced by Karen Kilroy [
link
] is doing great ­ thanks so much for your feed back ­ if you haven't seen it yet ­ you can see a quick low rez version at [
link
]
**************************
The Chris Chandler and David Roe show is seeking anyone who thinks they can pitch this show to colleges, universities and festivals, and (what the hell,) why not an HBO special. We need a booking agent folks. This show, using music storytelling, commentary, melody and now, video projection is really very cool. I think it is ready to go to the next level. Can you, or someone you know help?
***********************
We will be at the North American Folk Alliance in Austin seeking representation. See our FA schedule below.
***********************
Take a look at our schedule if you see we are near by and would like to bring us into your school, favorite bar or even your living room, drop us a line.
***********************
CONGRTULATIONS to David Rovics. He writes: At 11:08 pm on January 28th my daughter Leila Xitlali Paravicini Rovics was born. (She also happened to be born on my friend and comrade Darryl Cherney's 50th birthday, incidentally.) There are some thoughts and pictures to be found on my blog at www.davidrovics.com if you're really that curious. She is an exceptionally lovely baby...
*********************
H.E.R.E.'.S. .D.A. .D.A.T.E.S.

CLICK FOR CURRENT SCHEDULE